A Preview of Get A Grip with Mike Paton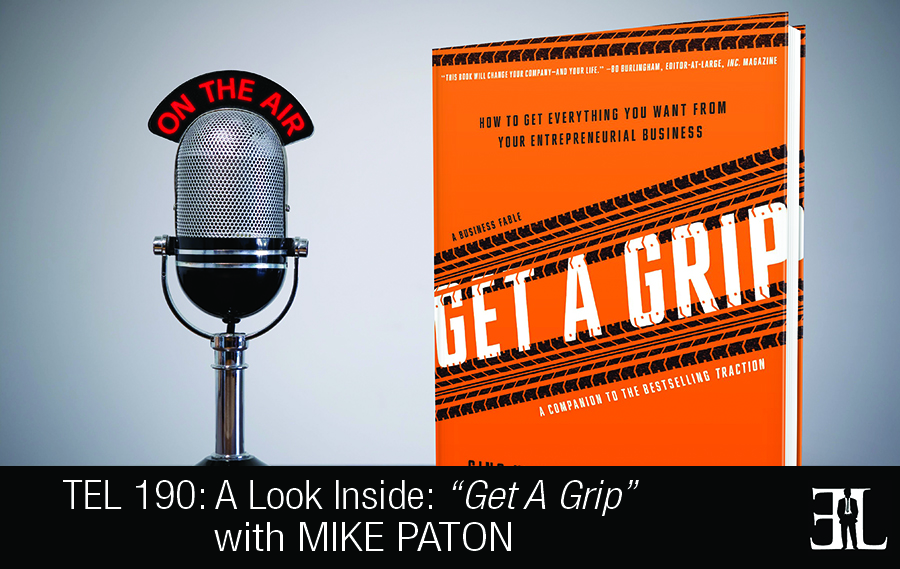 A summary of things you should know about Get A Grip according to Mike Paton:
Introduction
In this episode Mike Paton takes a deep dive into his book, Get A Grip, where he discusses how to get everything you want from your entrepreneurial business.
In his book Paton shares the entrepreneurial story of two startup founders that uncovers the real-life hardships and accomplishments that come with starting an entrepreneurial business. The goal of the book is to help you understand what it takes to be an entrepreneur, how to resolve typical issues that come with running a startup, and how to create a more effective team.
This book is perfect for entrepreneurs who are in a business partnership or own a business that is team oriented and need an action plan to improve their organizational operations.
The Book's Unique Quality (2:28)
The book is a real world, in the trenches, gritty, true story of a topical entrepreneurial organization. It's very instructive, it's a system full of simple practical tools, and our intent was to write this book in a way where an entrepreneurial owner or leader might read the book, see things that feel and sound familiar and be able to take the techniques to solve their own business problems.
The Best Way To Engage (5:04)
This book is much more logically digested front to back rather than diving in and out.
The Reader's Takeaway (10:40)
Vision without traction is hallucination. And the common entrepreneurial challenge isn't a lack of vision. The real challenge is migrating that vision into the trenches of that business, helping everybody in the organization understand it, internalize it, and own the appropriate piece of it so together everyone is executing on that vision and what you want actually happens. I believe EOS and the tools we characterized in the book is a great way to help the typical entrepreneurial leadership team get better at that fast.
A Deep Dive Into The Book (6:10)
The book illustrates the people who founded and are running a typical small business. There are about 35 people in this organization, it's called Swan Services, and the founding entrepreneurs have been wildly successful in the first seven years of this business. We meet these owners when they have begun hitting a few ceilings and starting to feel as though the business is running them rather than the other way around. What the readers are introduced to are a lot of the common frustrations, challenges, and root causes of the inevitable ceiling that people who run and own small businesses hit from time to time. As the story unfolds we take a deep dive into those root causes and we watch the members of the leadership team get together in a room with the aid of a professional EOS implementer and master the tools, disciplines, and simple concepts that EOS teaches to identify, prioritize, and resolve those common obstacles and issues.
NOTE: That was just a summary. To get the full deep dive, play the audio clip at 06:10
Notable Quotes From The Book (12:12)
"Every entrepreneurial business needs a system for operating." – Mike Paton
The Credibility/Inspiration Of The Author (0:34)
I am a lifelong entrepreneur, grew up in an entrepreneurial household and today I spend all day, every day, surrounded by entrepreneurs and their leadership teams helping them implement a system for running a small business called EOS (The Entrepreneurial Operating System).
My co-author and I both individually believed that this book needed to be written. We both work in the trenches with entrepreneurial leadership teams all the time, we both are avid learners, and both fallen in love with a forum for a book and we believe that telling the EOS story using the entrepreneurial approach would be a compelling read for most of the people we surround ourselves with.
Other Books Recommended By The Author (13:48)
Traction: Get A Grip on Your Business by Gino Wickman
More Information About This Book and The Author
Buy Get A Grip by Mike Paton and Gino Wickman on Amazon today
Visit EOSWorldwide.com to learn more about the book and download free chapters
Follow Mike Paton on LinkedIn and Twitter
More Information About This Episode
Download the full transcript here (coming soon)
Listen on iTunes, Stitcher , and SoundCloud
Related books:
All in Startup by Diana Kander
The Pumpkin Plan by Mike Michalowicz
Fairness if Overrated by Tim Stevens
Relevant advice and tips:
7 Signs That You Have What It Takes to Be An Entrepreneur
4 Common Reasons Why Startup Companies Fail
What did you like and not like about this episode? Fill out this one minute survey here.
What do you think about Mike's book, Get A Grip? Share your review in the comments below: