A Preview of Business Dating with Honoree Corder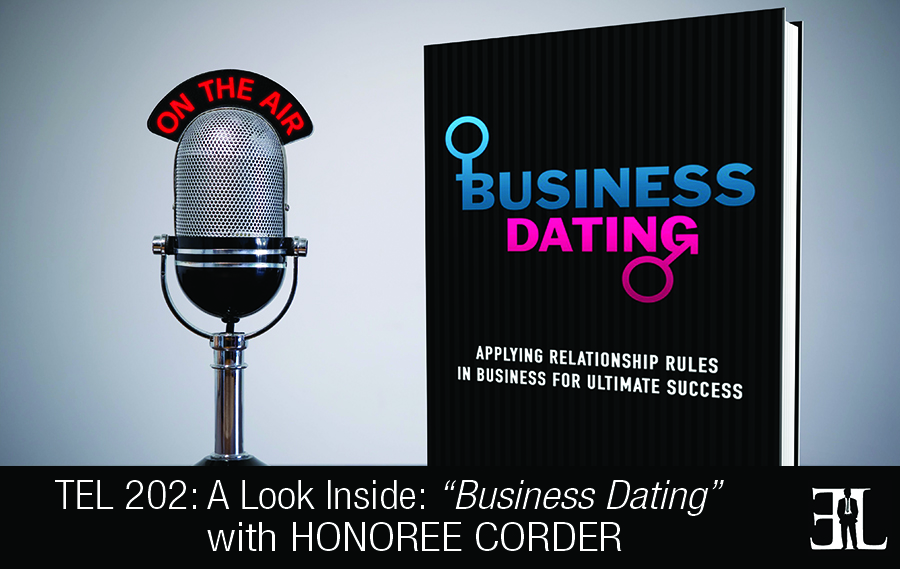 A summary of things you should know about Business Dating according to Honoree Corder:
Introduction
In this episode Honoree Corder takes a deep dive into her book, Business Dating where she discusses how to apply relationship rules to business and master the art of business networking.
In her book Corder provides a roadmap where she personally coaches you on the best, practical ways to build business to business relationships using her special 12 x 12 matrix. The goal of the book is to help you not only become a master at networking but also overcome the fear of meeting people, know when networking opportunities are greatest, and fully leverage the relationships you build.
This book is perfect for entrepreneurs who frequent networking events and have a hard time creating professional relationships that yield a solid return on investment.
The Best Way To Engage (3:41)
I wrote it to be read from front to back. I build one thing upon the next.
The Reader's Takeaway (16:26)
I think everyone's favorite so far is the 12×12. Putting together your 12×12 matrix and having a visual of all of your business relationships and knowing who you have and who you are missing.
A Deep Dive Into The Book (4:24)
Chapter one is business dating and what in the world it's all about. I talk about the correlation between person dating and business dating. Personal dating is when two people spend time together to try and determine what, if anything, they have in common and whether they should spend more time together. Business dating, networking, is exactly the same thing but a lot of people think that once you meet someone it's an automatic open door to their American Express card. And so I talk about why that isn't the case in this first chapter. I talk about how you do it right according to me and then I get people to think about why they are networking and business dating. I do this by having them take a step back and think about why they are in business, how long they'll be there, and who they need to know in order to make the rest of their business career. I also talk about ineffective business dating and what I see people doing wrong.
Chapter three is the art of business dating and I talk about something called The Trust Bridge. When you are developing a relationship with someone you are on this side of a bridge. On one side of it is that I don't know you and I don't like you and I trust you. On the other side of the bridge is everything you could ever want from a relationship. In this chapter I am talking about the relationship stages. Stage one is nice to meet you, stage two is I'm getting to know you, stage three is I think I like you, stage four is the getting to trust, stage five is I trust you, then I have a bonus stage which you'll find out about in the book.
In chapter four I go really deep into the do's and the don'ts of business dating and the two components of what to do and what not to do. It's very simple and I break them all down. Once you know what not to do and what to do, we then get into how to make a strong connection with someone. I literally give the language for if you want to make an introduction between two people, you want to reach out to someone you don't know and do it in such a way that you have success every single time.
Chapter five is called The Structure Sets You Free and in chapter five I reveal the 12×12 which is a visual matrix of your network. This helps you identify who is in your network and needs to be in your network and then I actually break down how to find those people and connect with them. I break that whole system down and provide free downloads on my website because I think the more people I can help, the better. Step one is identify, step two is organize, step three is discover, and step four is connect.
Chapter six is getting to know you, getting to know all about you, and I think I like you. I describe what I think many people have gone through many times when they've had that person come at them and really want something from them and they just aren't ready to give that up. I talk a little more about the trust bridge in this chapter and I also talk about how to nurture relationships with the people that you are in relationship with.
Chapter seven is called What's Your Number and I think that every person has a number of time that they need to interactive with or hear from someone before there is trust. What's interesting is nobody knows your number, not even you.
Chapter eight is know + Like + Trust = $$. You will not get to the revenue part of the relationship until you've crossed the trust bridge and got all the way to the other side. I give the qualifiers for how to know when to stay in touch with someone. Then I'm talking about keeping the love alive which is more follow up but this time I'm going into direct follow up and passive follow up.
Chapter nine is To Know you is to Love, Hire, and Refer you. So this is about your reputation, your code of conduct, your code of ethics, being friendly and I talk about the cornerstones of healthy relationships.
Finally, in chapter ten, I wrap it up with Business Dating for Ultimate Success. I get people setup for the journey ahead and remind them to keep the smile on their face and to get busy developing business dating relationships.
NOTE: That was just a summary. To get the full deep dive, play the audio clip at 04:24
Notable Quotes From The Book (17:35)
"You've read all the way through, now you know what to do, so go on your way, go and prosper I say." – Honoree Corder
The Credibility/Inspiration Of The Author (1:02)
I am an executive coach, speaker, and author. I work with professionals to help them double their income and triple their time off.
It's not what the inspiration was; it's more who the inspiration was. My clients were the inspiration. It's a networking book and my take on how you can develop relationships in business using correlations between person dating and business dating.
Other Books Recommended By The Author (18:57)
The Dynamic Laws of Prosperity by Catherine Ponder
More Information About This Book and The Author
Buy Business Dating by Honoree Corder on Amazon today
Visit HonoreeCorder.com to learn more about Honoree and her books
Follow Honoree Corder on Facebook and Twitter
More Information About This Episode
Download the full transcript here (coming soon)
Listen on iTunes, Stitcher , and SoundCloud
Related books:
Top Dog: Influence and Impress Everyone You Meet by Andy Bounds and Richard Ruttle
What More Can I Say? by Dianna Booher
How The World Sees You by Sally Hogshead
Relevant advice and tips:
7 Steps To Improve Networking Skills For Entrepreneurs
What did you like and not like about this episode? Fill out this one minute survey here.
What do you think about Honoree Corder's book, Business Dating? Share your review in the comments below: