A Preview of Make It Matter with Scott Mautz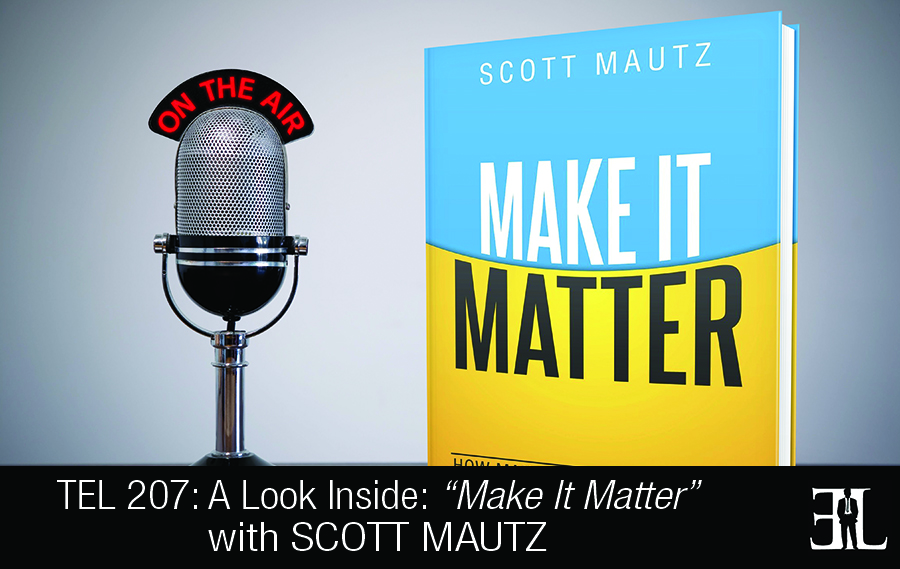 A summary of things you should know about Make It Matter according to Scott Mautz:
Introduction
In the episode Scott Mautz takes a deep dive into his book, Make It Matter, where he shows you how managers can motivate by creating meaning and personal significance.
In his book Mautz shares years of research, case studies, and techniques in an all-in-one how to guide for energizing, motivating, and encouraging employees to put in the most effort. The goal of the book is to help you add meaning to any organizational mission, find the internal significance of every employee, eliminate negativity from the workplace, and create unique opportunities of personal growth.
This book is perfect for entrepreneurs who run an organization of 5 or more employees and are looking for the best ways to create a work environment that mimic the best places to work.
The Book's Unique Quality (3:16)
I am pretty certain that I am the first author to ever put data to the concept that creating meaning at work is a great way to motivate. I also include dozens and dozens of practical tools that you can apply the very minute after you finish reading the book.
The Best Way To Engage (4:18)
I suggest reading it once through and then go back and use it as a reference guide.
The Reader's Takeaway (14:08)
If I had to pinpoint one thing it'd be the concept of what I talk about in that book of what I call profound performance. I've learned that when you facilitate meaning it not only drives the employees to engage, it takes them beyond engagement to elevate a performance in true fulfillment. There are so many things that can capture an employee's time and attention very temporarily but meaning holds the engagement of the employees at the deepest and most fulfilling level that sustains over the long haul.
A Deep Dive Into The Book (5:29)
The book is divided into ten chapters.
In the first chapter, Why Meaning Matters, I really paint the case for just that. The truth is that way too many of us feel a lack of true significance and meaning in how we spend our precious hours at work. In this chapter I lay the case out and put hard data to how the creation of meaning can serve as a competitive advantage in what I call compassionate advantage.
I dive into chapter two, The Markers of Meaning, and things get really interesting here because I have found through my research that there are seven distinct markers of meaning that when you intentionally meet them you can drive meaning and fulfillment. The markers are divided into three sections, when you yield a calming and clarifying sense of interdiction, when you create conditions that lead to a satisfying sense of self-discovery and growth, and when you create conditions that engender devotion to ones work at a deeper connection between the employer and employees in a greater good. And I get really specific within that.
In chapter three I start to dig deeply into each marker meaning. This chapter, The potency of Purpose, I walk through very specifically how as a manager you can carve for yourself or carve out for your people a six step path to purpose. If you follow these six steps I can promise you that by the time you're done you will have identified what you want your purpose at work to be.
I move on to the fourth chapter where I talk about how to leave your legacy behind. This chapter is broken into two pieces and the first part is called the five footprints of legacy. Then I round out this chapter with what I call The Five Step Footpath to Leaving Legacy Worthy Results at Work.
In chapter five I talk about the power of learning and personal growth at work. I spell out seven very specific ways you can craft an environment that's rich with learning and personal growth.
In Chapter six I talk about the next core marker of meaning and way to create a sense of Significance at work which is to create a meaningful decision making and influence based culture as well. When people feel like they are a part of making decisions it is incredibly motivating and I spell it out as well as eight things you can do to create autonomy as a manager.
Chapter seven moves on to teach you how to create cultures of consequence and those are cultures that are built on a core of caring, authenticity, and teamwork.
In chapter eight we talk about meaning making leadership very specifically. I talk about how as a leader you can create meaning more so than any of your competitors and I go over four traits of meaning making leadership.
In chapter nine I go the other way and talk about cutting off corrosive behaviors or behaviors that can destroy a sense of certainty, confidence, or community.
I round off the book in chapter ten on how to weave all of the concepts together into a meaning making plan and I provide a couple of options for how to do that.
NOTE: That was just a summary. To get the full deep dive, play the audio clip at 05:29
Notable Quotes From The Book (15:38)
"We are all at a pivotal moment in life; we just may not know it and you have to live as if you did." – Scott Mautz
The Credibility/Inspiration Of The Author (0:34)
I am an author as of March 4th, when Make It Matter hit the streets. I am also a keynotes speaker and have a fulltime job as a director at Procter & Gamble where I run the company's largest business. And over my 20 plus years at Procter & Gamble I have run a number of different businesses all multimillion dollars in size.
I have been studying the field of motivation for almost a decade and about seven years ago I discovered a stunning statistic that has been proven over and over again. Which is that almost 70% of us may actually be coated as disengaged at work and even if you've heard that statistic before, what's stunning is that is doesn't get any better. Year after year the data will show you it keeps declining so whatever we are doing to motivate clearly cannot be working. That has been haunting me for the last half dozen years and I really started working hard at trying to find a way to crack this code. I came across this concept that it's not pay, it's not perks, and it's not promotion, it's really meaning where you can bring significance into your work and make it matter more. That's what kept me going and was the inspiration behind this book.
Other Books Recommended By The Author (17:16)
Good to Great by Jim Collins
More Information About This Book and The Author
Buy Make It Matter by Scott Mautz on Amazon today
Visit ScottMautz.com to learn more about Scott and his book
Follow Scott Mautz on Facebook and Twitter
More Information About This Episode
Download the full transcript here (coming soon)
Listen on iTunes, Stitcher , and SoundCloud
Related books:
Everybody Paddles by Charles Archer
The Hidden Leader by Scott Edinger
The Best Place to Work by Ron Friedman
What did you like and not like about this episode? Fill out this one minute survey here.
What do you think about Scott Mautz's book, Make It Matter? Share your review in the comments below: