A Preview of The Dream Cafe with Geoff Crook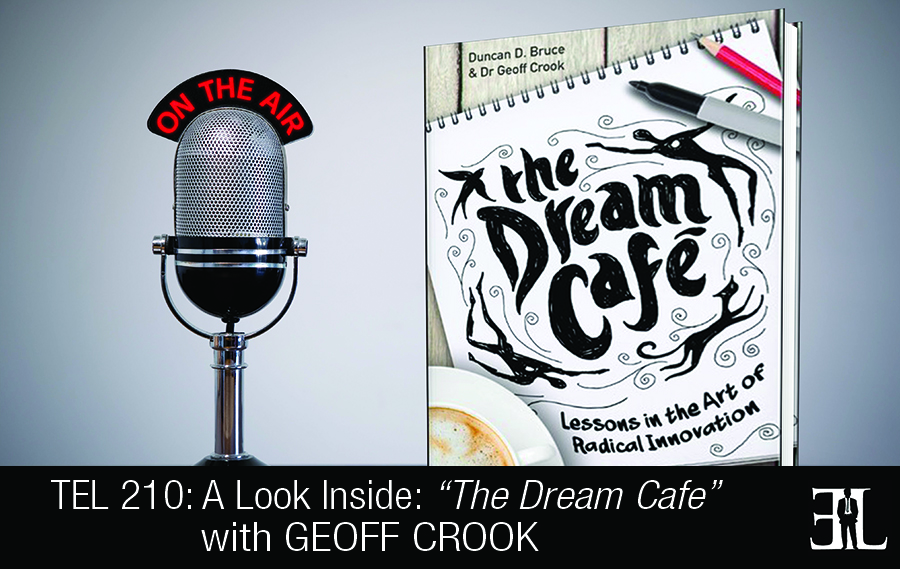 A summary of things you should know about The Dream Cafe according to Geoff Crook:
Introduction
In this episode Geoff Crook reveals all his insights on his book, The Dream Cafe, where he provides a guide for harnessing creativity and developing a brand designed to disrupt any market.
In his book Crook and co-author Duncan Bruce developed a fresh, innovative approach that is used by major businesses and is designed to product radical innovation that leads to unpredictable outcomes. The goal of the book is to show you how to transform any big business idea into a market disruptor, develop a competitive advantage by taking risks, and effectively implement massive innovation.
This book is perfect for entrepreneurs who possess a very creative mindset and need a practical guide for turning fresh ideas into highly profitable business ventures that will redefine any market.
The Book's Unique Quality (5:30)
The Dream Cafe identifies a crucial president called the avant-garde. Those people who met together in cafes or other venues and people who came from all kinds of disciplines but had in common the passion for challenging convention and changing the world. It was those people that invented the future. And so basically The Dream Cafe takes the position that in the world of uncertainty it really helps if you could look back to a president of people who learned how to do it well and managed to do it systematically across 150 years.
The Best Way To Engage (6:59)
This book is written to allow people to step in and step out of.
The Reader's Takeaway (18:37)
Trust your instinct, believe in the potential of serendipity, and recognize that chaos creates opportunity.
A Deep Dive Into The Book (6:59)
If you take the argument that chaos is an opportunity rather than a threat then essentially what you need to come to terms with are some of the qualities which are inherent in the way in which the avant-garde think about the world. Moving in to the notion that dreaming is important and anytime you look at any discipline that created some kind of major disruptive innovation in the world it's a mystery that kind of fuels you. From there you can grab hold of that stuff and shape it into something that allows you to invent the future. The notion of experimentation has to be a permanent state of being for any competitive business and the book suggest that experimentation is absolute embracing the right to fail. It understands that failure should be part of the innovation process. Other important areas are the idea of habitat and the multisensory space. Multisensory space is the idea that we are only at this threshold of realizing and capitalizing on how extraordinary we are as humans. I suggest that you shouldn't even think about trying to disrupt this world until you can disrupt yourself.
NOTE: That was just a summary. To get the full deep dive, play the audio clip at 06:59
Notable Quotes From The Book (19:02)
"I force myself to contradict myself in order to avoid conforming to my own taste." – Marcel Duchamp
The Credibility/Inspiration Of The Author (0:37)
I am passionate about creativity and absolutely committed to the idea that disruption allows you to create better futures. I worked at Central Saint Martin's college as a director of imagination and application and created a master's program called Applied Imagination which broke just about every rule in education. I've done a lot of freelancing in the branding/marketing area and that's where I got to meet Duncan who I then collaborated with on creating The Dream Cafe.
Frustration was the primary inspiration. It was frustration that the majority of businesses was confronting the context of market unpredictability by investing in trained insight rather than innovation and was simply failing to notice the difference.
Other Books Recommended By The Author (21:50)
Experience and Nature by John Dewey
More Information About This Book and The Author
Buy The Dream Cafe by Geoff Crook on Amazon today
Visit TheDreamCafe.eu.com to learn more about the book
Follow Geoff Crook on LinkedIn
More Information About This Episode
Download the full transcript here (coming soon)
Listen on iTunes, Stitcher , and SoundCloud
Related books:
The Innovator's Method by Nathan Furr
The Business Idea Factory by Andrii Sedniev
Disruption by Design by Paul Paetz
Relevant advice and tips:
5 Steps To Promote Innovation At The Workplace
What did you like and not like about this episode? Fill out this one minute survey here.
What do you think about Geoff Crook's book, The Dream Cafe? Share your review in the comments below: