A Preview of High Paying Clients with Trevor Crane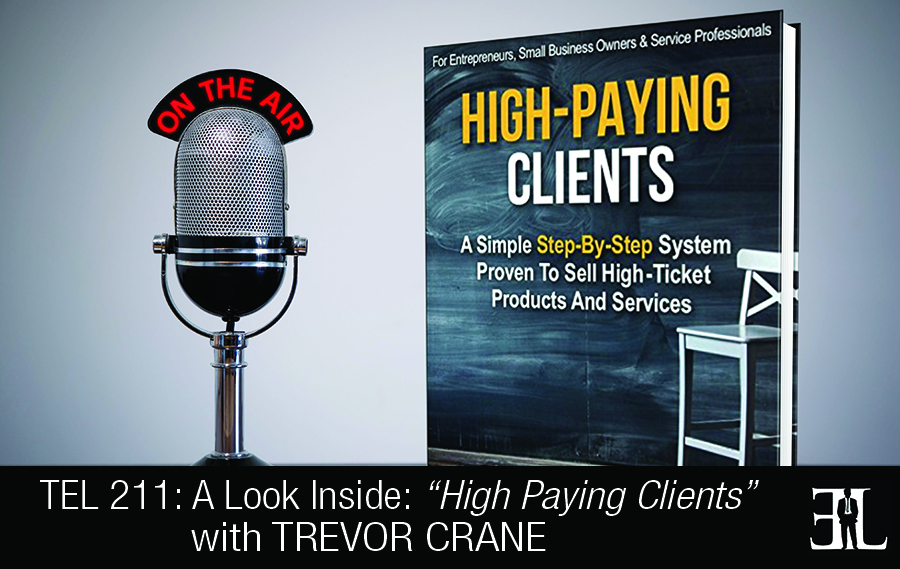 A summary of things you should know about High Paying Clients according to Trevor Crane:
Introduction
In this episode Trevor Crane takes a deep dive into his book, High Paying Clients, where he reveals a no-fluff, non-BS approach for selling to high-end clients.
In his book Crane provides a step-by-step guide derived from his personal experience training and consulting entrepreneurs to reinvent the way they do business in order to make more money. The goal of the book is to show you exactly how to find highly profitable clients, sell high-end products to high-paying people, make more money off less deals, and easily close a high-end sale.
This book is perfect for entrepreneurs who are selling a high-end product or service, are tired of handling cheap, unappreciative customers, and need to guide for finding loyal clients.
The Book's Unique Quality (4:25)
One of my strengths is breaking something down into something really simple. This book has functionally created results in every one of my clients.
The Best Way To Engage (6:34)
You can jump in and out based on where your strengths and weaknesses are.
The Reader's Takeaway (19:35)
It's to get help. I think the biggest thing that I've learned in my businesses is that I've had successes and I've had failures but if you want to improve something the greatest way to get the result that you want is to get help. Go find somebody to help you create the result you want.
A Deep Dive Into The Book (12:11)
The content of the four initial steps of how you can train your entire staff are Hi, Why, Try, and Bye. Hi is just a very simple greeting and the building section of the process. If you do this well and someone knows, likes, and trusts you, that in it of itself can get people to want to buy from you right away. Because if people really like you and trust you they are going to want to buy from you and too often when someone is trying to make the sale they forget this part.
The second step is the Why and there are two things to probe for, first you want to probe for pain, and second you want to probe for pleasure. Step number three is after you find out what they want and why they want it you then give them Try and now make them an option. Often time's people are given too many options and a confused mind says no. You don't want that to happen so make sure to give people a very clear, consist, and compelling call to action.
In the Bye step I ask for you to close the deal and give you different strategies and benchmark questions to make sure you collect a decision. Yes's are great, no's are great because you don't have to waste any more time, and maybes will kill you. So you want to avoid the maybes. I also highly recommend, no matter what your business is, that you at least talk about your guarantee when you are trying to close the deal.
NOTE: That was just a summary. To get the full deep dive, play the audio clip at 12:11
Notable Quotes From The Book (21:32)
"A confused mind says no and does nothing." "We can only see in someone else what we can also see in ourselves." – Trevor Crane
The Credibility/Inspiration Of The Author (0:57)
For the last 12 years I've been a fulltime business coach and consultant. I work with small business owners, medium size business owners and my expertise is helping them find that extra money laying around in their business without spending more money. So I help them improve their systems and processes and drive bottom line revenue. All the tools and teachings came from my own experiences in owning a business is water sports and tourism, marketing and advertising, and also one in environmental protection. I've had a lot of failures and successes and put the best of what I've learned into High Paying Clients.
I decided to write this book because it was really the best of what I do for my clients. As I looked at what I wanted to promote I figured I wanted to give my best stuff away first. This is what helps people convert the sale.
Other Books Recommended By The Author (23:31)
The 10X Rule by Grant Cardone
More Information About This Book and The Author
Buy High Paying Clients by Trevor Crane on Amazon today
Visit TrevorCrane.com to learn more about Trevor and his book
Visit GreatnessQuest.com to learn more about his TV show
Follow Trevor Crane on Facebook and Twitter
More Information About This Episode
Download the full transcript here (coming soon)
Listen on iTunes, Stitcher , and SoundCloud
Related books:
The Trusted Advisor by Rob Galford
Never Chase Clients Again by Michael Moshiri
The Entrepreneur's Guide to Sleaze-Free Selling by Julia Kline
Relevant advice and tips:
7 Reasons Why Your Sales Skills Suck
5 Simple Ways An Entrepreneur Can Attract Customers To Their Business
What did you like and not like about this episode? Fill out this one minute survey here.
What do you think about Trevor Crane's book, High Paying Clients? Share your review in the comments below: