A Preview of Escape The Expected with Tom Trush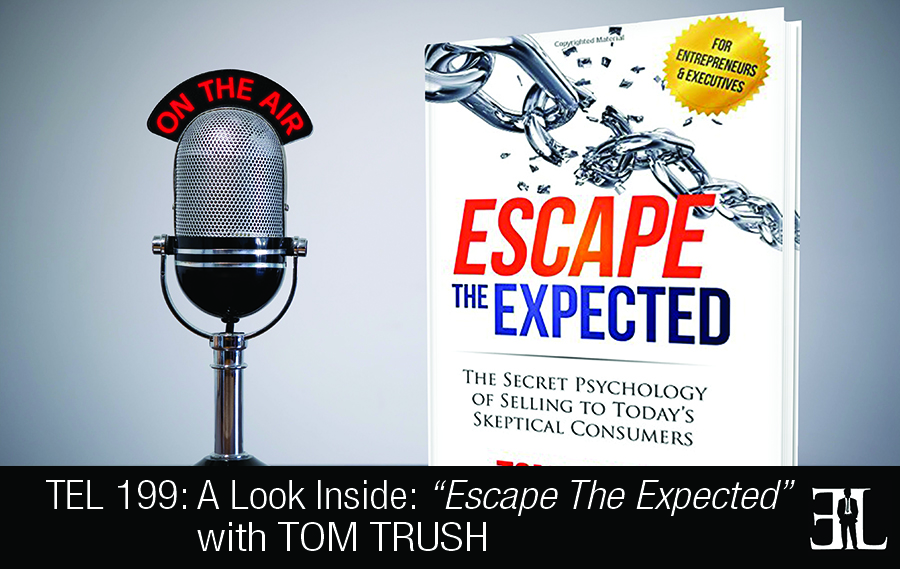 A summary of things you should know about Escape The Expected according to Tom Trush:
Introduction
In this episode Tom Trush takes a deep dive into his book, Escape the Expected, where he shares the secret psychology of selling to today's skeptical consumers.
In his book Trush provides a step-by-step guide that teaches you marketing secrets you may have never heard of like what prospects don't trust you, what pollutes the marketing world, and how to establish yourself as an authority in so much cluttered advertising. The goal of the book is to help you spend less time working, leverage your marketing better, and adapt to the constant changes in marketing.
This book is perfect for entrepreneurs who are spending more than half their time marketing a business or have no idea where to start when it comes to marketing.
The Book's Unique Quality (4:13)
The difference in this book comes down to quick action items. The book is a little over 200 pages but you can get through it in one sitting.
The Best Way To Engage (5:14)
You can open up to any chapter and get a tip or strategy that you can implement immediately.
The Reader's Takeaway (14:47)
Dare to be different because when your product or service marketing looks like everything else in its industry then you are forcing prospects to use price as a deciding factor when whether to buy your product or service.
A Deep Dive Into The Book (6:02)
This book has really short chapters and those chapters are broken down into three sections to create what I call The Trust Trilogy. I'll tell you each piece of the trilogy and then we'll dig in to each one. The first one is instead of marketing what you want to say, give your prospects what they need to succeed. Number two is trust requires consistent communication because it creates familiarity. And then number three is that your marketing must develop relationships before it can drive profits.
The first part of the trilogy, instead of marketing what you want to say give prospects what they need to succeed, ties into that consumers crave relationships with companies that they can trust these days. With today's rapid technology development it has increased our interactions with other people and you have more ways to get in front of people now days and as a result we have more opportunities to attract prospects attention. The key is that you can have your prospects attention but that doesn't necessarily mean you have their interest. Those who establish trust are the ones who get heard and that is what we dig into in this first section of the book.
The second part of the trust trilogy, trust requires consistent communication, the problem here is that so many business owners and entrepreneurs will only market when they need leads and market from a place of desperation. You prospects don't care about your leads or you generating sales they just know that they have a problem to solve and they are looking for information in your marketing to solve that problem. When you are marketing your best bet is to market to people who have already expressed interest in what you offer.
The third part of the trust trilogy, marketing must develop relationships before you can drive profits, ties into a challenge that many business owners and entrepreneurs have. When they launch marketing campaigns they expect a significant and quick returns but those who consistently market realize that they take time especially when you have to educate your target market. In this third section I give you different ways on how you can consistently communicate with your audience and establish that trust over a long period of time. When you are creating your product you need to really think about what you want to be known for in your business because we operate in an economy today where you likely have more competitors than you can count.
NOTE: That was just a summary. To get the full deep dive, play the audio clip at 06:02
Notable Quotes From The Book (16:58)
"The most effective marketing often doesn't look like marketing." – Tom Trush
The Credibility/Inspiration Of The Author (0:47)
I am a direct-response copywriter and I think sometimes you give that career name out there and people don't necessarily understand what it is. The way I like to explain it is that I write marketing materials designed to generate response. One of the big things that I love about my job is figuring out why a marketing piece is poor or isn't generating the response that people want.
Usually the way that I write is I stumble on marketing topics that interest me and then I'll weave them into a theme. I wanted to give people some ideas for establishing trust in the marketing materials that you send out to attract leads and generate sales.
Other Books Recommended By The Author (18:26)
Ca$hvertising by Drew Eric Whitman
More Information About This Book and The Author
Buy Escape the Expected by Tom Trush on Amazon today
Visit EscapeTheExpected.com to learn more about the book
Visit TomTrush.com to learn more about Tom and his services
Follow Tom Trush on Facebook and Twitter
More Information About This Episode
Download the full transcript here (coming soon)
Listen on iTunes, Stitcher , and SoundCloud
Related books:
Do It! Marketing by David Newman
Pocket Man by Scott Jordan
Moving Targets by Gabriel Aluisy
Relevant advice and tips:
5 Reasons Why Your Marketing Sucks
5 Mistakes Entrepreneurs Make With Marketing and Branding
What did you like and not like about this episode? Fill out this one minute survey here.
What do you think about Tom Trush's book, Escape The Expected? Share your review in the comments below: