A Preview of The Objective Leader with Elizabeth R Thornton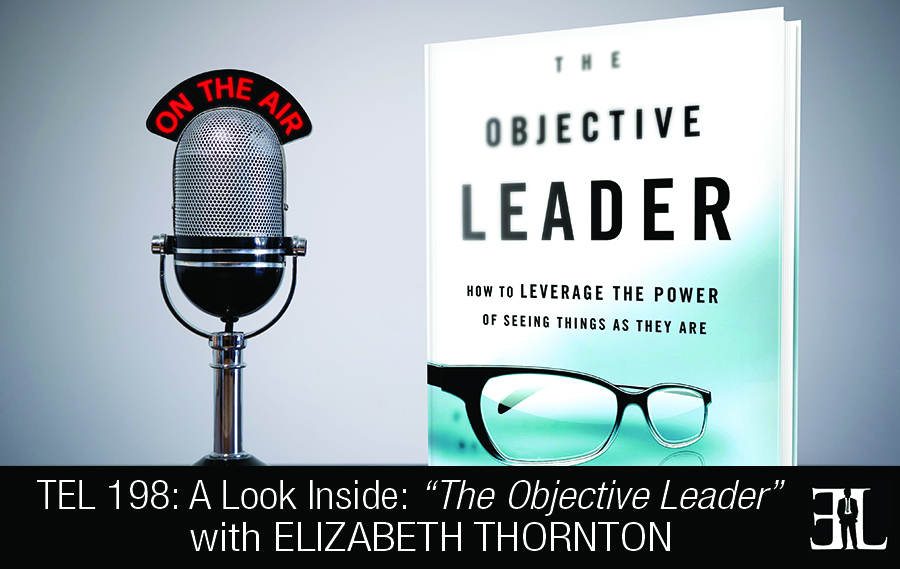 A summary of things you should know about The Objective Leader according to Elizabeth R Thornton:
Introduction
In this episode Elizabeth Thornton takes a deep dive into her book, The Objective Leader, where she shows you how to leverage the power of seeing things as they are.
In her book Thornton reveals years of research on the concept of objectivity and how it will open your world to new cultures, new markets, and new opportunities. The goal of the book is to help you improve your management skills, make decisions faster than normal, avoid bad decision making, and eliminate the fear of failure when it comes to life and business.
This book is perfect for entrepreneurs who typically overreact to negative situations, judge people too quickly, and let their insecurities get the best of them.
The Book's Unique Quality (5:39)
My book talks about the entrepreneur themselves, their mindset, and how to keep them clear in their mindset so that they can make better decisions along the way.
The Best Way To Engage (7:05)
I would suggest the reader read the book from front to back.
The Reader's Takeaway (22:28)
I would say that the world is in your mind and we all have the power to change our minds.
A Deep Dive Into The Book (8:00)
The first chapter of the book is all about how I lost a million dollars and I take you through my whole experience from beginning to end.
From there we jump right into chapter two which is all about setting the context for objectivity and subjectivity. I define objectivity as the ability to see and recognize things as they are without projecting your fears, your background, your past experiences, and your mental miles on to whatever it is and responding thoughtfully, deliberately, and purposefully to everything you experience.
The first step in being objective is about understanding how we relate to the world and I call that The Subject Object Relationship which we go into in detail. What we experience through our senses is an object of our awareness and we respond to whatever that is which means you are responsible for and drive your response to everything that you experience. And then we go through what I call Drivers of Subjectivity and all these things that we can project onto what is that may color our ability to see things as they are.
Chapter four is about applying all of that to leadership and lays out a framework for increasing objectivity.
Chapter five is all about being objective under pressure and I give the key tactics, tools, and tips you can use to be objective in the moment.
Chapter six goes over mental models. We all have mental models which are one of the things that we project onto what it is that keeps us from seeing things as they are. One of the things I talk about in this chapter is some of the limiting and unproductive mental models that we have and I share research that I have conducted that points to five mental models that most of us have. In order to transform a mental model you have to think about it differently because mental models are deep rooted ideas and beliefs about the way things are and the way things ought to be.
The last two chapters of the book are devoted to the entrepreneur completely.
NOTE: That was just a summary. To get the full deep dive, play the audio clip at 08:00
Notable Quotes From The Book (22:45)
"The world is in your mind." – Elizabeth R Thornton
The Credibility/Inspiration Of The Author (0:36)
I have been with Babson College as the professor of entrepreneurship since 2006.
I lost a million dollars in an international fruit juice business and it taught me so much. Getting back on my feet I realized it wasn't the business decision I was making along the way, it was how I framed my world and my inability to see things as they were. As a result of that I started studying psychology, neuroscience, and entrepreneurship and just trying to put it all together. I started learning about objectivity and developed a course around it that I wanted to share with others.
Other Books Recommended By The Author (23:10)
Leadership and Self-Deception by Arbinger Institute
More Information About This Book and The Author
Buy The Objective Leader by Elizabeth Thornton on Amazon today
Visit ElizabethRThornton.com to learn more about Elizabeth and her book
Follow Elizabeth R Thornton on Facebook and Twitter
More Information About This Episode
Download the full transcript here (coming soon)
Listen on iTunes, Stitcher , and SoundCloud
Related books:
Seeing What Others Don't by Gary Klein
Anticipate by Rob-Jan de Jong
Fairness is Overrated by Tim Stevens
Relevant advice and tips:
5 Characteristics of A Great Leader
What did you like and not like about this episode? Fill out this one minute survey here.
What do you think about Elizabeth Thornton's book, The Objective Leader? Share your review in the comments below: