A Preview of Managing Whole People with Mark Herbert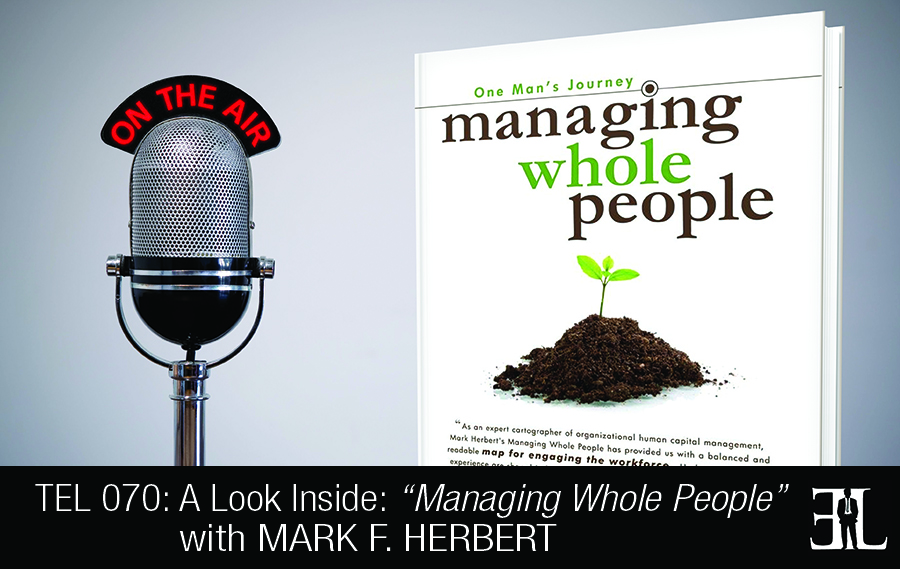 A summary of things you should know about Managing Whole People according to Mark Herbert:
Introduction
In this episode Mark Herbert shares his book, Managing Whole People where he gives you 30 years of mistakes, experimentation, and learnings from the personal journey of an HR director and a senior consultant.
In his book, Herbert provides you with a guide to the true leadership of managing people based on his 5 basic elements of respect, responsibility, information, rewards, and loyalty.
This book is perfect for entrepreneurs and business owners who assume a role in managing employees and are having trouble building the proper relationships to increase productivity.
The Book's Unique Quality (2:14)
I tried to incorporate over 30 years of experience including the mistakes I made, the things that I learned and the positive outcomes that came out of my experiments.
The Best Way To Engage (3:21)
If there is a particular issue you want to focus on you can skip to that part of the book or you can just read it straight through.
The Reader's Takeaway (13:18)
The most important thing that I want the reader to walk away with is you manage whole people, you don't just manage their intellectual intelligence, their emotional intelligence but you manage it all. Leadership is a gift that is given to you by people who choose to follow you.
A Deep Dive Into The Book (4:35)
The first part of the book talks about a guy who was around a bunch of years ago who came up with something called the human resources pyramid. This pyramid still speaks to me in a very compelling way even 30 years later. He says that every employee and organization asks a series of six questions and they ask them in a particular order. The six questions are…
What is my job?
How am I doing?
Does anybody care?
What are we doing, what is our organizational mission?
How are we doing?
How can I help?
What I have found as an executive and HR person is that we spent an enormous amount of time answering the last three questions but what we did not create a sense of alignment for people. In this book I tried to answer these six questions. What is interesting now is, 15 years ago we didn't talk about employee engagement. What they call employee engagement today I call moving from compliance to commitment.
My model is based on five very basic elements. The first element that I talk about is the element of respect. We need to recognize that we don't manage human capital we manage people. The second element is the idea of responsibility. Responsibility says that I give you an idea of the context of where you fit into the organization and I give you the autonomy in order to complete that work and do it well. The third element is the context of information. The fourth element is the area of rewards. When I talk about rewards I am talking about time off, compensation, acknowledgement and recognition. The last element is the concept of loyalty. When I talk about loyalty in my compliance to commitment model I am talking about mutual loyalty. You cannot get more loyalty from people than you are willing to give.
In the next part of the book I talk about my experimentation while working in situations beginning in a copper mine in Arizona working through a financial services organization. Seeing that by actually putting my model to the test we really could see enormous improvements in performance. By following that model through and doing it consistently we would get the kind of gain so that there is something in that for us. The tough part is it's not a human resource system, it's a culture. The nice part about it is it doesn't have to be in one culture. I would also submit that this model most often works in any setting.
NOTE: That was just a summary. To get the full deep dive, play the audio clip at 04:35
Notable Quotes From The Book (14:29)
"Culture eats strategy every time." – Mark Herbert
The Credibility/Inspiration Of The Author (0:34)
My original corporate training was in the human resources area. I have since evolved from that into some C- level responsibilities and operations. And for the last 15 years I have operated as a management consultant working with organizations around their relationships ranging from fortune 100's to small entrepreneurial businesses.
The big inspiration for me was coming up through a time where the whole idea of human resources management and leadership was not held at high esteem. A number of different conflicting philosophies out there were to communicate to people that when we were managing people, we managed them one at a time and we managed the entirety of who they are.
Other Books Recommended By The Author (15:37)
Why This Horse Won't Drink by Ken Matejka
It's Your Ship by D. Michael Abrashoff
More Information About This Book and The Author
Buy Managing Whole People by Mark Herbert on Amazon today
Visit NewParadigmsLLC.com to learn more about Mark and his blog
Visit BestThinking.com to read more articles by Mark
Follow Mark Herbert on Twitter and Facebook
More Information About This Episode
Download the full transcript here (coming soon)
Listen on iTunes, Stitcher , and SoundCloud
Related books:
The Discomfort Zone by Marcia Reynolds
Lead to Succeed by Chris Roebuck
The Front-Line Leader by Chris Van Gorder
Relevant advice and tips:
5 Characteristics of A Great Leader
What did you like and not like about this episode? Fill out this one minute survey here.
What do you think about Mark Herbert's book, Managing Whole People? Share your review in the comments below: