A Preview of The Business Romantic with Tim Leberecht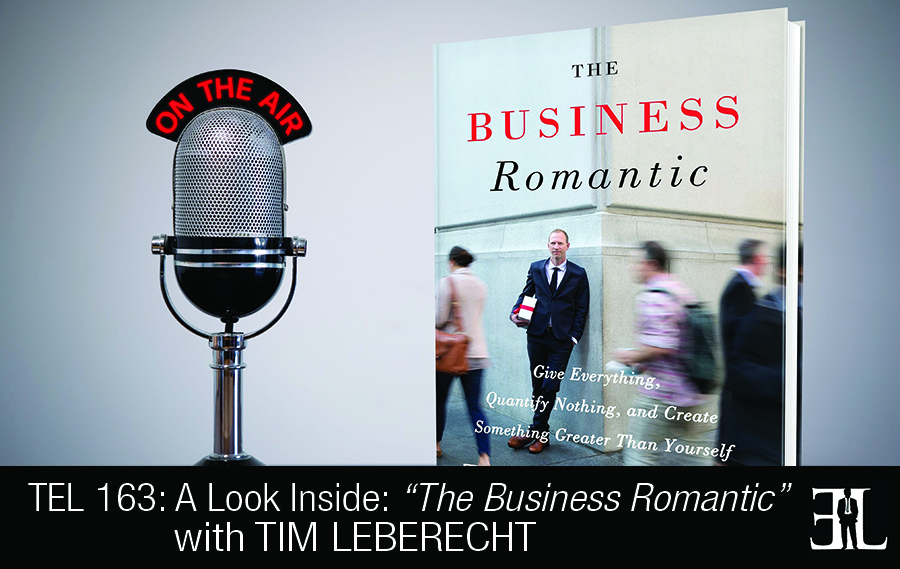 A summary of things you should know about The Business Romantic according to Tim Leberecht:
Introduction
In this episode Tim Leberecht takes a deep dive into his book, The Business Romantic, where he argues that we underestimate the importance of romance and that it can be found through business.
In his book Leberecht takes an intriguing yet challenging look into the emotional side of business through the compelling stories of very successful innovators of our times. The goal of the book is to give you a different look on how you pursue your dreams while helping you develop a meaningful life, create something greater than the status quo, and rejuvenate your worklife.
This book is perfect for entrepreneurs who are experiencing boredom in their work lives and are seeking an uplifting yet provocative approach to creating a radically unique life.
The Book's Unique Quality (4:04)
What's difference about The Business Romantic is that it is a business book and it isn't. It draws from the liberal arts, from philosophy, and it's a very personal book that I've been meaning to write for years. It really is a reflection on the state of business philosophical discourse and yet at the same time it does provide very specific concrete tools and techniques. In terms of the argument that I'm making, My book is about romance which includes suffering a little bit, it includes a sense of danger and risk taking, so it's not only about having a strong inspirational mission.
The Best Way To Engage (5:37)
I think the reader can read it from front to back or cherry-pick as they go.
The Reader's Takeaway (13:25)
One thing that is really important is that we understand that we have the power of framing our experience in business. So the way we view our encounters at work is really important. We are the masters of our narrative; we have the power to make sense in what we experience in business and I encourage the reader to appreciate that and use it. The second thing I would say it to have the courage to be vulnerable and the experience you have will be much more meaningful.
A Deep Dive Into The Book (6:38)
The book starts with my own experience in 2014 working as an Advance Press Chief for the Olympic torch relay in Athens and it was probably the most formative professional experience that I had. It was very intense and I remember thinking in the intensity of the moment that that was exactly the kind of sentiment that I wanted to have for the rest of my career. And that became my question for the following 20 years or so. How can you keep the flame a light during the middle when routine and processes kick in and the magic of the beginning is gone? And this book is trying to find an answer to that.
The first chapter is called The New Desire for Romance in which I explore why I believe that the time is right for a re-enchantment, why there is dissolution with business. And what the parallels are of this mindset. It's not a book against technology but it cautions us not to mistake the algorithmic world we live in with the old truth in business.
In the second part of the book I then introduce a number of business romantics. One of the greatest experiences that I had as I was writing this book is that it gave me a reason to connect with other people who were kindred spirits and it was very rewarding to see that I am not the only business romantic.
In the third part of the book, The Rules of Enchantment, is the gist of the book that provides the reader with 10 rules that he/she can apply in his/her respective work environment. These rules range from give more than you take to keep the mystique. Another principle I introduce is suffer a little bit which is pointing out that romance is not the same as happiness. The last rule of enchantment is called Stand by, Stand Still, Do Nothing, and it's talking about solitude and the importance of doing nothing.
The book then concludes with a discussion about why business has become one of the main operating systems of our lives and it examines some of the ethical implications of romance in business.
The book offers an appendix which is called The Business Romantic Starter Kit. It's almost like a library of books, films, and music that the reader can read up on to get into the business romantic mood. It also provides the 15 steps to becoming a business romantic.
NOTE: That was just a summary. To get the full deep dive, play the audio clip at 06:38
Notable Quotes From The Book (15:13)
"There's a crack, a crack in everything, that's how the light gets in." – Leonard Cohen
The Credibility/Inspiration Of The Author (0:34)
I have been working in marketing for almost 20 years now, mainly in professional services. I worked for Frog Design for seven years which is a leading product design and innovation strategy firm. Most recently I've been working for an architectural design firm called NBBJ. I am a passionate marketer and that's also the reason why I wrote this book based on my experiences in that field.
I'm a business person, like I said I've been in business for 20 years, and at some point I've realized that I'm also an unapologetic romantic. I believe we need more romance in our life and I believe we can find it and create it in and do all that through business. The romance I am talking about is notion experiences where your heart beats faster and you have adrenaline rushes, and moments in which we fall in love with everything. I believe it's very important that we romanticize business and be enchanted because I believe we are facing a great disenchantment. So my book is making a case for more romance in business within the framework of business and then proposes these specific rules of enchantment that everyone can use to make their life at work more meaningful.
Other Books Recommended By The Author (17:06)
The Great Gatsby by F. Scott Fitzgerald
More Information About This Book and The Author
Buy The Business Romantic by Tim Leberecht on Amazon today
Visit TheBusinessRomantic.com to learn more about Tim and his book
Follow Tim Leberecht on Twitter and Facebook
More Information About This Episode
Download the full transcript here (coming soon)
Listen on iTunes, Stitcher , and SoundCloud
Related books:
Zero To One by Peter Thiel and Blake Masters
The Happiness of Pursuit by Chris Guillebeau
Memoirs of Normalcy by Joleene Moody
What did you like and not like about this episode? Fill out this one minute survey here.
What do you think about Tim Leberecht's book, The Business Romantic? Share your review in the comments below: