A Preview of Become Your Own Boss in 12 Months with Melinda Emerson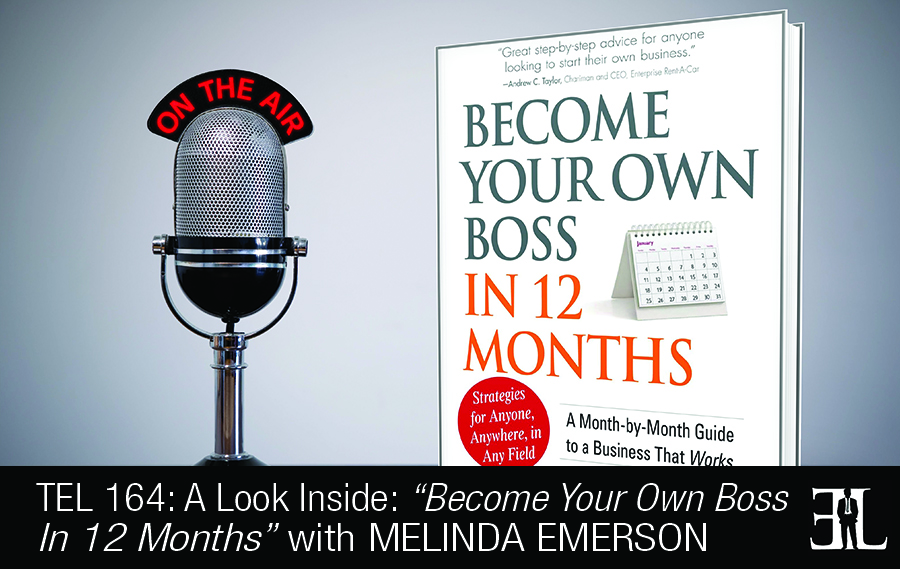 A summary of things you should know about Become Your Own Boss in 12 Months according to Melinda Emerson:
Introduction
In this episode Melinda Emerson reveals all her insights on Become Your Own Boss in 12 Months, where she shares her monthly guide for building small businesses.
In her book Emerson provides you with step-by-step instructions, effective business strategies, simple techniques that will help build your business within a 12 month period. The goal of the book is to teach you fresh, new ways to create any startup through an effective marketing plan, a small business budget that works, financing sources that are worth your time, and a long-lasting business maintenance plan.
This book is perfect for entrepreneurs who are new to the business world and need a guide to help get their first business funded, launched, and maintained within a small amount of time.
The Book's Unique Quality (4:09)
The first thing that makes my book different is my Emerson planning system in my book. I actually developed a six step system for people to transition from having a job to starting a business. You first need to develop a life plan before you ever develop a business plan because you need to figure out what you want and why you want it and then you need to build a business that aligns with that. I talk first about life planning which is very nontraditional in the business world and then I talk about financial planning. I also talk about evaluating your business based upon what skills you have and then what skills you need to run your particular kind of business.
The Best Way To Engage (7:26)
I actually designed it to be read twice. I found that when people read it a second time they start doing the action items at the end of each chapter.
The Reader's Takeaway (15:12)
Niche to get rich! I think that the biggest problem that I see small business owners have is they chase anybody that they think has money as opposed to having specific niche target customers. Niche marketing is everything that you need to have to be successful in business these days.
A Deep Dive Into The Book (8:44)
The first thing I walk people through is really thinking through if you really want to be an entrepreneur. And then I explain why it takes 12 months because the most common question I'm asked is why it takes 12 months to start a business.
And then I walk people through how to develop a life plan, how to construct their financial plan, and how to start thinking like a business owner. Then we start looking at creating your business model and then lining up your lawyer and accountant who are going to be probably the two most important business advisors you're going to have.
From there we start talking about marketing and I get into your niche and really understanding what a niche is and how you figure out what your niche should be. And then we look at marketing 101; how to figure out who is going to buy your product or services.
Then I walk people through developing a business plan. Once we get through business planning I look at where you are going to get this money from and getting your finances together.
I also have a chapter that covers how to develop a successful crowd funding campaign. I give you the step by step and profile two businesses that did it well.
I walk you through how to brand your business and in that I talk about how to develop your number one sales tool which is your website.
Then I walk you through how to develop a content strategy because when you start thinking about building your brand you have got to think about how to do it online and offline. When it comes to building your brand online it's really about what I call a Three Legged Stool approach. You've got to have a great website, you've got to figure out what you're doing with social media, and then you've got to use e-mail to follow up on all of that.
And of course I have a chapter on how to become a social media ninja. If you want to know how I build over 300,000 followers on Twitter and a brand that is international, I break it down for you in this chapter.
Then we talk about getting you ready six months before you start. I switch gears and talk about how to cultivate the market; how to start telling people you are getting ready to open up your business. Then we go through setting up shop and I've got some great checklists on all the things you have to have in place.
From there we talk about employees and how to build your team. And then we look at how to set up your customer service systems because your processes and systems need to be setup before you open your doors.
The third section of this book is called Go and that's when in chapter 22 we walk you through launching your business and how you do that.
Then I walk people through 10 Things You Must Never Forget in Business. And then I leave you with my final thoughts where I walk people through the things that I think they need to be doing and measuring in their business.
NOTE: That was just a summary. To get the full deep dive, play the audio clip at 08:44
Notable Quotes From The Book (16:01)
"You never lose in business, either you win or you learn." – Melinda Emerson
The Credibility/Inspiration Of The Author (0:39)
My name is Melinda but my nickname is Small Biz Lady and I am very excited to talk to you about my brand new book which is the update of my very first book. Become Your Own Boss in 12 Months is a month by month guide to a business that works. I wrote it because I wanted people to benefit from all the hard learned lessons I had learned in my years in business. I've been in business now 16 years so I have been through the fire, wind, and rain and I am still here!
In 2005 my former husband and I became pregnant with my son and I went from being the worlds worst workaholic you ever met in your life to being put on bed rest for six months. And in that time of six months I started thinking about all the expensive lessons I have had the opportunity to learn. I started taking notes and writing down stuff that I wish somebody had given me better advice about. I got to a point where I realized that I needed to pull all this together in a document that would help other people. I wrote the book that I wished someone had written back when I first started my business in 1999.
Other Books Recommended By The Author (16:28)
The E-Myth Revisited by Michael Gerber
More Information About This Book and The Author
Buy Become Your Own Boss in 12 Months by Melinda Emerson on Amazon today
Visit SucceedAsYourOwnBoss.com to get the first two chapters and some more resources
Follow Melinda Emerson on Twitter and Facebook
More Information About This Episode
Download the full transcript here (coming soon)
Listen on iTunes, Stitcher , and SoundCloud
Related books:
The Startup Survival System by Kurt Won
New Business: Next Steps by Ann Hawkins
The Pop Up Paradigm by Melissa Gonzales
Relevant advice and tips:
Top Financial Mistakes Entrepreneurs Make When Creating a New Business
5 Important Things That Every Entrepreneur Needs To Know About Starting a New Business
What did you like and not like about this episode? Fill out this one minute survey here.
What do you think about Melinda Emerson's book, Become Your Own Boss in 12 Months? Share your review in the comments below: