A Preview of Real Moms Making Real Money Blogging with Stephanie O'Dea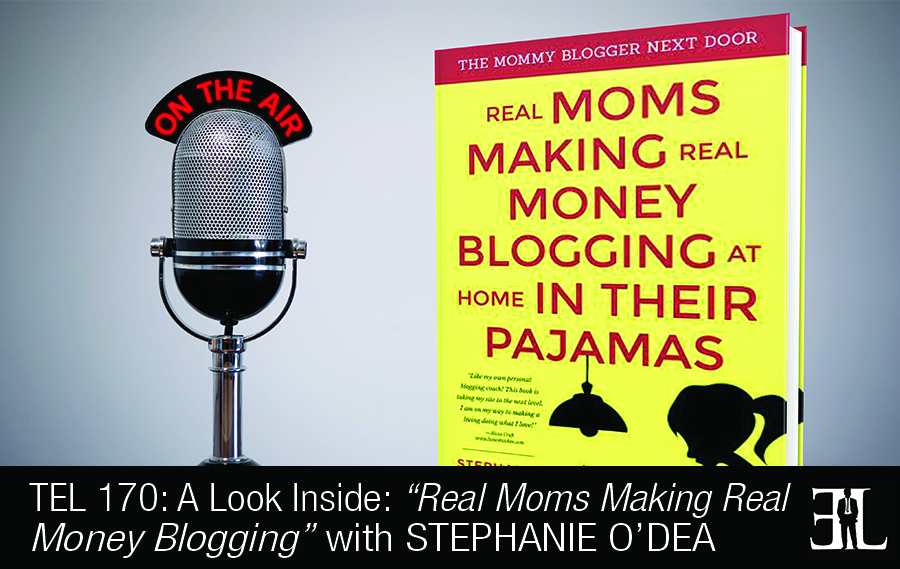 A summary of things you should know about Real Moms Making Real Money Blogging according to Stephanie O'Dea:
Introduction
In this episode Stephanie O'Dea shares all her insights on her book, Real Moms Making Real Money Blogging, where she discusses an alternative job for stay-at-home moms.
In her book O'Dea shares her personal story of how she turned to blogging as a way to make significant amounts of income while working at home in her pajamas and taking care of her 3 children. The goal of the book is to help you uncover things that interest you, teach you how to turn your interests into a money-making blog, and show you other ways to earn money from home.
This book is perfect for entrepreneurs who have an interest in creating an online business that is unique to their own personal interests, hobbies, and skillsets.
The Book's Unique Quality (3:37)
At the time when I first started I was determined that I could make something from virtually nothing and that's what I did and what I am hoping to share with others who want to find a way to make a legitimate income from their kitchen table.
The Best Way To Engage (5:00)
Most of my reviews from Amazon and my friends who tested it said that they sat and read it all in one setting. It's a quick read, the way I write is the way I speak in sort of a conversational style. I think reading it through once to get a fill for it and then going back and dog earing the pages that you want to dive a little bit more into.
The Reader's Takeaway (13:08)
My whole purpose for writing this was to show that you can make something from absolutely nothing.
A Deep Dive Into The Book (6:36)
This book is geared to the beginner blogger or the on the fence blogger who is not sure how to do it and may be a little intimidated with some of the advice out there. And so I spelled it out in a way that search engine optimization is giving the readers what they are already searching for.
Another thing that I like about the way I formatted my book verses other books is that I am ok with sharing insight or secrets. I think holding your cards too closely isn't helpful and so I fully laid out the steps that I have taken. I also talk about how I consider myself a mommy blogger but I don't talk about my kids. I have three girls and their pictures have never been online. I don't even have a personal Facebook page, I believe in keeping family life and business completely and totally separate.
I talk about how to sell your own ads in the sidebar, how to create your own product to sell, and I've dabbled a little bit into the publishing world.
One other piece of advice I would give to you is to go with the gut test. I think women in general are blessed with this intuition and if it feels wrong, it's wrong.
NOTE: That was just a summary. To get the full deep dive, play the audio clip at 06:36
Notable Quotes From The Book (14:08)
"Handle every single interaction online as a customer service representative would. You're your best advocate and you will always be your best personal relations manager." – Stephanie O'Dea
The Credibility/Inspiration Of The Author (0:36)
I am a mom of three girls, a 13, 10 and 5 year old. And I am lucky enough that I work fulltime at home while I am able to take care of my children. I am a New York Times bestselling cookbook author, a slow cooking expert, and your typical normal everyday mommy blogger next door.
I personally needed to make money from home and so I wanted to dive into finding a legitimate way to do that. This book is written for others moms who might be in the same situations. I had this fire in my belly that I had to find a way to make money from home.
Other Books Recommended By The Author (15:15)
21 Success Secrets of Self-Made Millionaires by Brian Tracy
More Information About This Book and The Author
Buy Real Moms Making Real Money Blogging by Stephanie O'Dea on Amazon today
Visit StephanieOdea.com to learn more about Stephanie and her books
Follow Stephanie O'Dea on Facebook and Twitter
More Information About This Episode
Download the full transcript here (coming soon)
Listen on iTunes, Stitcher , and SoundCloud
Related books:
The Suitcase Entrepreneur by Natalie Sisson
Lifestyle Entreprenuer by Jesse Krieger
The Art of Social Media by Guy Kawasaki and Peg Fitzpatrick
Relevant advice and tips:
7 Recommended Books for Starting an Online Business
What did you like and not like about this episode? Fill out this one minute survey here.
What do you think about Stephanie O'Dea's book, Real Moms Making Real Money Blogging? Share your review in the comments below: