A Preview of Refire! Don't Retire with Ken Blanchard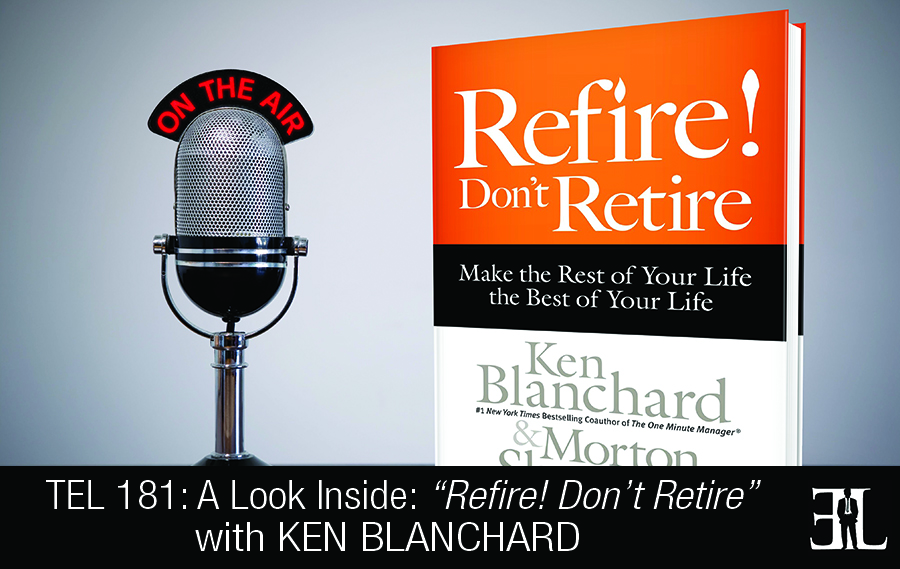 A summary of things you should know about Refire! Don't Retire according to Ken Blanchard:
Introduction
In this episode Ken Blanchard takes an in-depth look into his and Morton Shaevitz book, Refire! Don't Retire, where they share a story of what it takes to make our elder years more meaningful.
In their book Blanchard and Shaevitz reveal years of research and experience through an exciting, humorous, and practical story of how an elder couple was able to get the best out of their lives. The goal of the book is to teach you unique ways to better your relationship, improve your thinking, rejuvenate your health, become more passionate, and seize new opportunities worth living for.
This book is perfect for seasoned entrepreneurs who are approaching retirement and are looking for a way to keep up their energy levels in order to make their life more enjoyable.
The Book's Unique Quality (12:14)
Number one it's short and easy to read, number two it's a story, and three I give the reader a lot of chances to reflect on it all.
The Best Way To Engage (9:54)
Since all my books are short I recommend you read it all the way through because it will only take about an hour to read.
The Reader's Takeaway (9:02)
The big thing I would want the reader to understand is the importance of growing and learning. I believe that growing and learning is like oxygen to a deep sea diver and without it you're in trouble. No matter your age you should always keep going and add zest to your life.
A Deep Dive Into The Book (4:05)
I write parables and it's about a couple that goes back to their 45th high school reunion and they are a little disappointed that so many of their classmates look at aging as a sentence rather than an opportunity. And there is an old teacher of theirs who ended up going and getting a doctors degree who invites them both to come see him. After going to see him they discover that there are four areas that we ought to all look at. The first area of refiring is emotional relationship wise and we ask the question are you doing the same thing with the same people in the same way? And have you met any new people? What are you doing to get out of your comfort zone?
The second area is figuring out what you are doing to refire intellectually.
The third area is your physical self which is very important.
Finally we talk about what you want to do to refire spiritually and who you really want to be in the world.
Refire is about getting zest in your life on an ongoing basis and making your life exciting no matter what your age is.
NOTE: That was just a summary. To get the full deep dive, play the audio clip at 04:05
Notable Quotes From The Book (10:56)
"Refire! Don't Retire. Make the rest of your life the best of your life." – Ken Blanchard
The Credibility/Inspiration Of The Author (1:10)
I was a college professor who came out to San Diego for a one year sabbatical leave when I ran into the group called The Young Presidents Organization after doing sessions for them they adopted me in and encouraged me to start my own company now known as The Ken Blanchard Companies. We are in the leadership development business and our hope and dream is that someday everyone everywhere will be influenced by somebody who is making a difference in the world.
When I turned 65 I was on the fall with Zig Ziglar who invited my wife and I to the 59th anniversary of his 21st birthday. When I asked him if he was going to retire his response was 'I'm refiring, not retiring' and I thought wow what a great concept.
Other Books Recommended By The Author (13:09)
The Power of Positive Thinking by Dr. Norman Peale
The Power of Ethical Management by Norman Peale and Ken Blanchard
More Information About This Book and The Author
Buy Refire! Don't Retire by Ken Blanchard and Morton Shaevitz on Amazon today
Visit KenBlanchard.com to learn more about Ken and his company
Follow Ken Blanchard on Facebook and Twitter
More Information About This Episode
Download the full transcript here (coming soon)
Listen on iTunes, Stitcher , and SoundCloud
Related books:
The Greatness Zone by Jay Forte
The Energy Bus by Jon Gordon
You Can Retire Sooner Than You Think by Wes Moss
Relevant advice and tips:
8 Resolutions For Improving Your Health And Happiness
What did you like and not like about this episode? Fill out this one minute survey here.
What do you think about Ken Blanchard's book, Refire! Don't Retire? Share your review in the comments below: