A Preview of Fueled By Failure with Jeremy Bloom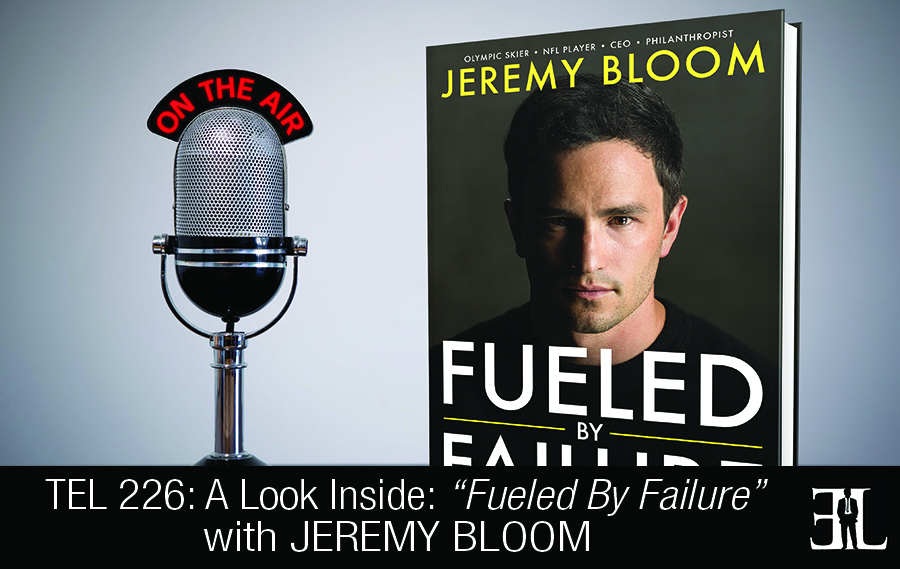 A summary of things you should know about Fueled By Failure according to Jeremy Bloom:
Introduction
In this episode, business expert and Olympian, Jeremy Bloom gives an in-depth preview of his book, Fueled By Failure, where he coaches you on turning failure into success.
In his book Bloom provides actionable advice on overcoming failure through the personal lessons he has learned from well-respected coaches, athletes, and business leaders that have brought him to the top. The goal of the book is to help you push yourself through hard times, learn how to rebound after being defeated, create an amazing business culture, and uncover motivation you never knew existed.
This book is perfect for aspiring entrepreneurs who have a desire to change the world, but lack the coaching and motivation of fighting through the difficulties of overcoming life's challenges.
The Book's Unique Quality (6:07)
I believe that my perspective is a little more different and unique because of the people I have had the privilege of sharing life with and the experiences I have gone through.
The Best Way To Engage (7:31)
One of my pet peeves is redundancy and so I wanted to write a book that was really concise and didn't repeat things I was saying over and over again. You can pick up this book and literally read it in one afternoon.
The Reader's Takeaway (17:21)
It would be to suppress your ego. I believe that our egos can get in the way of so many different things in our lives. Think about the decisions that you make in your life and how much ego is attached to them. If you think that your ego potentially has a larger control on your life than you'd like there are a lot of things that you can do to suppress that.
A Deep Dive Into The Book (8:36)
I'll cover a few chapters and start with chapter one which is my most favorite.
My biggest dream in athletics was to win an Olympic gold medal. My dad is an Olympic historian and growing up he would often times get emotional during opening ceremonies and when US athletes would win medals. He was one of my biggest heroes in life, my mentor and coach, and I really wanted to win a gold medal not only for myself but also for him. I won three world championships, I won more world cups than anybody in history in a single season, and I was ranked number one in the world coming into the Olympics but I had 23 seconds to make a 22 year old dream come true and my one small mistake cost me that chance. In the book I talk about what a dark place that put me in and talk about what I call the 48 hour rule principle that got me through it. I think the most important thing to do in times of failure is to prescriptively with ourselves set a deadline for how long we are going to allow ourselves to revisit the failure. When I woke up the next morning after losing that 22 year old dream I gave myself 48 hours to be inside my head, try and dissect what happened, and to take the lessons out of that experience and move on. After the 48 hours I committed to moving on and about three days later I went to the NFL combine and competed well there and got drafted into the NFL. This is a concept that I use today in business and continue to use in athletics.
Another one of my favorite chapters in the book and something I believe strongly in is this idea of starting with culture. Before you have a business I think it's incredibly important to define what your culture is. This should become a roadmap for you and your employees to look at to know exactly what needs to be done to become the best employee and/or leader. At Integrate, the company I run, we have five cultural pillars. The first pillar is performance and we define that as the most importance key metric is increasing the overall value of the business and everybody buys into that. When you set performance first in the culture it creates a different tone. The second pillar is being entrepreneurial. The third pillar is personal responsibility and we define that as you lead with conviction but accept when your ideas aren't implemented with grace. The fourth pillar is creativity and we define that as you are a curator of originality. The last and the nonnegotiable pillar is humility and we define that as being quick to give credit for results and slow to take it.
NOTE: That was just a summary. To get the full deep dive, play the audio clip at 08:36
Notable Quotes From The Book (21:36)
"Don't let the good days go to your head or the bad days go to your heart." – Jeremy Bloom
The Credibility/Inspiration Of The Author (1:04)
I grew up in Loveland Colorado most of my life. I first saw the Olympics on TV when I was 10 years old and was struck by how incredible they were. I had been a skier since I was three years old and after seeing the Olympics is when I realized I could do something with that talent. I was also a football player and I told my parents at age 10 that I wanted to ski in the Olympics and I wanted to play in the NFL. They both looked at me and told me that I could do that if I really put my mind to it and attack my dreams. Through a lot of good luck and fortune I was able to live out both of those dreams. I competed in two Olympics for the United States in freestyle skiing and then went on to get drafted in the fifth round by the Philadelphia Eagles which I spent two seasons there. I was with the Pittsburgh Steelers before launching into my nonprofit and now running a venture back startup.
My inspiration for writing this book came from my own personal experiences and also the observation of others. I grew up with some incredibly talented athletes and now I'm exposed to some wonderfully talented entrepreneurs and it's been my observation in life that the inevitable setbacks that everybody encounters along their journey handles those moments a little bit differently. Along our journey we develop an ego and one of the things that an ego can do to be destructive to our dreams is over personalize the setbacks in our lives. I wanted to dive into this topic, talk to some of the most successful people, and share my journey in hopes of helping someone else accomplish their dreams.
Other Books Recommended By The Author (25:28)
Good to Great by Jim Collins
The Power of Intention by Wayne Dyer
More Information About This Book and The Author
Buy Fueled By Failure by Jeremy Bloom on Amazon today
Visit JeremyBloom.com to learn more about Jeremy and his book
Follow Jeremy Bloom on Facebook and Twitter
More Information About This Episode
Download the full transcript here (coming soon)
Listen on iTunes, Stitcher , and SoundCloud
Related books:
Performing Under Pressure by Hendrie Weisinger
13 Things Mentally Strong People Don't Do by Amy Morin
Instant Motivation by Chantal Burns
Relevant advice and tips:
10 Bad Habits That Successful People Avoid
What did you like and not like about this episode? Fill out this one minute survey here.
What do you think about Jeremy Bloom's book, Fueled By Failure? Share your review in the comments below: