TEL 252: Roll Up Your Sleeves & Get To Work with RICK KOLSTER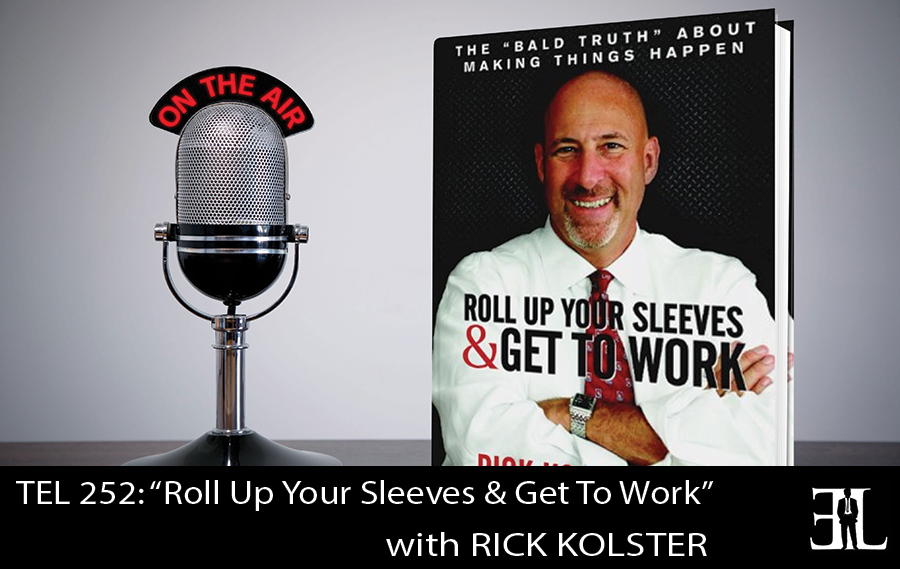 A summary of things you should know about Roll Up Your Sleeves & Get To Work according to RICK KOLSTER
Introduction (0:34)
I go by the name of Coach Rick. I am a certified business coach, speaker, author, and my passion is helping people become the best they can be. Early on in my life I was blessed with great mentors that taught be that reading was the way to get to where you wanted to be. My first business books were Think and Grow Rich and The Greatest Salesman in the World, and those books changed my life. Now I serve as an executive coach and a trainer.
The Book's Unique Quality (4:19)
I'm going to take a quote from one of my clients, "Rick unites both business and life coaching in a totally practical, imaginative, and useful way." I want to touch people in a way that they can understand. There's not a lot of fluff in the book, it's really get down and get to work. This book is really about the reader and getting them motivated and excited about doing things.
The Best Way To Engage (6:32)
They can jump in and jump out. The chapters are pretty short and easy to read. It's broken down into three components: listen, learn, and live. So each little chapter you are going to find information, cool stories, and action steps you can take.
The Reader's Takeaway (16:10)
It's simple, it's do something. In the book we have the 12 points for success, the 12 commandments is what I call them. Commandment number one is 'do something.' Commandment number two is 'if not now, then when?' Just take it and do something. It's easier to move a ship that's in motion than a ship that's standing still.
A Deep Dive Into The Book (7:38)
I broke the book into three components to make it easy to read: listening, learning, and living. The first thing we really talk about is how do you wake up in the morning? What's your attitude? Your attitude is going to determine how your day goes. If you wake up with a cruddy attitude then you're going to have a cruddy day. If you wake up with a great attitude then you're probably going to have a good chance at having a good day.
We then talk about your belief systems. What are you putting in? What are you digesting every day? At the end of each chapter there is a short easy exercise, where you can take what you just read and put something behind it and really dig in. My purpose with that was for the reader to intellectually challenge themselves every day.
Finally, we talk about purpose. We were all put on this planet for a reason, I truly believe that. Our job as individuals is to find that purpose and live for that purpose. From here we work on how do you do it? It's about attitude, it's about commitment, and it's about getting it to action. Those three pieces are really what drives the entire book and everything that I do.
NOTE: That was just a summary. To get the full deep dive, play the audio clip at 7:38
Notable Quotes From The Book (17:20)
"Make a decision, right or wrong but make something happen." -Rick Kolster
The Credibility/Inspiration Of The Author (2:16)
It was really all about what I do every day and who I am. I ended up being the guy who gets things done. The inspiration behind it is what I get to do every day and the amazing clients that I interact with. I have been blessed with a lot and I wanted to figure out how to give back to the world.
Other Books Recommended By The Author (18:21)
The Greatest Salesman in the World by Og Mandino
Selling for Geniuses by Rick Kolster
More Information About This Book and The Author
Buy on Amazon today
His Website: www.coachrickkolster.net
Add him to Twitter: https://twitter.com/CoachRicKolster
Add him to Facebook: https://www.facebook.com/CoachRicksBALDTRUTH
More Information About This Episode
Download the full transcript here
Listen on iTunes, Stitcher , and SoundCloud
Related books:
Relevant advice and tips:
What did you like and not like about this episode? Fill out this one minute survey here.
What do you think about RICK's book, Roll Up Your Sleeves & Get To Work? Share your review in the comments below: