TEL 255: Small Business Big Pressure with DARRYL LYONS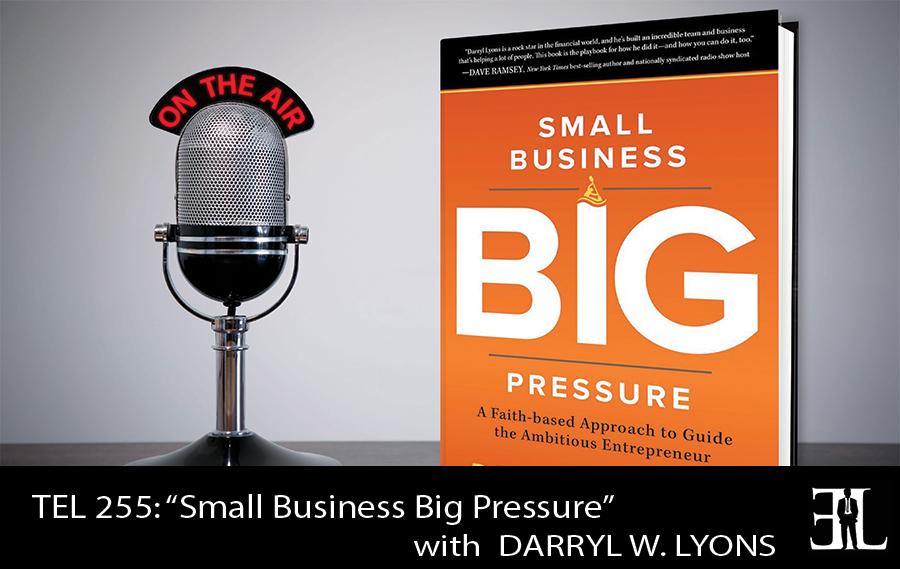 A summary of things you should know about Small Business Big Pressure according to Darryl Lyons
Introduction (0:48)
I'm an entrepreneur, I co-founded a company called Pax Financial Group and I have been advising and leading individuals and small business owners with their money for 15 years now. Our company has become one of the best places to work in the community so I am really proud to lead a small business and write about it.
The Book's Unique Quality (2:28)
One is that I am a small business owner talking to small business owners, so the tested in the trenches idea. Then I try to keep the format very simple, I didn't want to make it overly complex. And the most important thing is I have really integrated my faith into the content and not all entrepreneurs are willing to do that and be vulnerable in that way.
The Best Way To Engage (3:24)
I understand business owners have ADHD like me. I did put the book together for people to be able to jump from chapter to chapter. I do suggest that people read the first two chapters and the last two chapters but outside of that if they want to dive into one component they will be ok doing that.
The Reader's Takeaway (8:00)
In each section of the book we experience a degree of pressure and worry and confusion. So whether it's confusion about the vision, or the worry with money, or the pressure with hiring and firing. The one thing that I would like the entrepreneur to get away is the degree of faith in God that's necessary as an entrepreneur to overcome that worry, pressure, and confusion.
A Deep Dive Into The Book(3:59)
The framework of the book was really developed with the entrepreneur in mind, my family of entrepreneurs, clients I have worked with over the years. I have also received feedback from entrepreneurs over the content so it's really designed for business owners by business owners. The framework has four components.
The first part is that the small business or business owner needs to wrestle with direction, where are they going and how to get there. So creating a vision, many times we talk about developing a vision and mission statement and we develop a framework of how to do that.
Then when we start executing that vision (many times that's selling a product or service) then the dollars reflect our efforts. The second part of the book will examine how you effectively manage your money and what is the prudent way to manage your money as a business owner. So I do talk about money but I do it in a way that I think business owners will find refreshing and simple.
As you start to build up this bank account and make money you recognize that your time is worth more than money and there are skill sets you don't have so you need to hire somebody. So I talk about the process of hiring but it's not so much hiring but the development of that person that's supporting us as entrepreneurs. This can be as simple as a virtual assistant or as complex as an administrative staff or person.
The fourth step is building a cohesive team that sings from the same sheet of music and we create an identity as a company. The identity is really more important than you would ever think as a business owner. When you have more than one person, you have to make sure that you are all playing by the same rules. You need to ensure that you have clear principles that you abide by and a value proposition that we don't just put on a business card but that you actually believe in.
So the four sections that I outlined that can be pulled apart independent of each other are: destination, dollars, dialogue, and identity. Different business owners find that each section resonates with them differently depending on where they are at in their business owner and entrepreneur journey.
NOTE: That was just a summary. To get the full deep dive, play the audio clip at 3:59
Notable Quotes From The Book
The Credibility/Inspiration Of The Author (9:03)
In a conversation with God he asked me, "Are you done yet, are you done worrying?" 
- Darryl Lyons
Other Books Recommended By The Author (9:54)
The Rest of the Gospel by Dan Stone and Greg Smith
More Information About This Book and The Author
His Website: http://www.smallbusinessbigpressure.com/

Get his E-book for free using the code: bold
More Information About This Episode
Download the full transcript here
Listen on iTunes, Stitcher , and SoundCloud
Related books:
Relevant advice and tips:
What did you like and not like about this episode? Fill out this one minute survey here.
What do you think about DARRYL's book, Small Business Big Pressure? Share your review in the comments below: