A Preview of Do Cool Sh*t with Miki Agrawal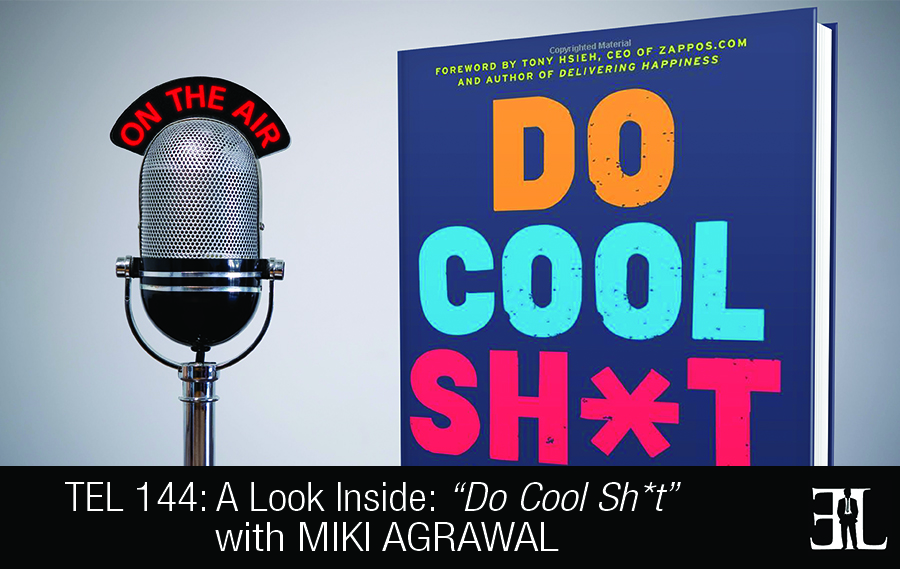 A summary of things you should know about Do Cool Sh*t according to Miki Agrawal:
Introduction
In this episode Miki Agrawal takes a deep dive into her book, Do Cool Sh*t, where she reveals her insights on starting a successful company and living happily ever after.
In her book Agrawal teaches you fresh yet effective tactics for starting a new company from brainstorming to raising money to getting quality press coverage without having any connections. The goal of the book is to provide you with a quirky yet honest look into the life of a serial entrepreneur and give you the confidence to quit your job, start your own business, and live a happy life.
This book is perfect for aspiring entrepreneurs who are currently working for someone else and are ready to make a move into the world of self-employment.
The Book's Unique Quality (5:18)
My book is one that you want to finish and finish fast so that you get all the answers to the thrilled adventures I take you on.
The Best Way To Engage (6:27)
You can go in and out because each chapter holds their own, but it does have a story art if you read it from front to back.
The Reader's Takeaway (13:33)
Put your running shoes on a walk out that door! The minute you walk out that door and put one foot in front of the other things will start to fall into place.
A Deep Dive Into The Book (7:10)
When I was 24 years old I started by going to these one on one interviews with potential investors. Sitting across from these investors I found myself very nervous and not feeling like myself. So for six months I just sat in meeting after meeting, feeling very uncomfortable, and raising no money. I knew that I need to figure out what I was doing wrong and that's when I realized I wasn't authentic. It became very clear that if you can't be confident in a meeting they aren't going to invest in you. I started hosting fundraising dinner parties where I would invite anyone I knew with extra change in their pockets. I knew free food and a nice evening would get people in the door. When it came to introducing the business idea I realized at the time that I was not confident enough and had someone else pitch it for me. From those dinner parties I was able to raise $250,000 for my first restaurant business. This is just one of the examples that I share in the book and I share every bit of the detail of hosting these dinner parties.
NOTE: That was just a summary. To get the full deep dive, play the audio clip at 07:10
Notable Quotes From The Book (15:35)
"Iteration is perfection." – Unknown
The Credibility/Inspiration Of The Author (0:50)
I started off working in Investment Banking when I graduated from Cornell University. 9/11 happened just a few days after I moved to New York, I was supposed to be at the World Trade Center that day but it was the first time in my life that I slept through my alarm clock. That was sort of my wake up call. I played professional soccer for a couple of years; I worked in the film business and worked my way up in production. I had my first stomach ache when I decided to start my first business which was a gluten free farm-to-table pizza concept in New York City. My newest project is called THINX which is a women's empowerment apparel company that provides a sustainable underwear solution for women to wear doing their time of the month.
When you are in college entrepreneurship is really not something that you study and there wasn't an entrepreneurship course. And so I began to read books by entrepreneurs and walked away so inspired but with so many questions. I wanted to find a book that I could read and one that gave me the step by step system to go from step zero to step one in business and life.
Other Books Recommended By The Author (17:05)
Jitterbug Perfume by Tom Robbins
Losing My Virginity by Richard Branson
More Information About This Book and The Author
Buy Do Cool Sh*t by Miki Agrawal on Amazon today
Visit MikiAgrawal.com to learn more about Miki and her story
Visit DoCoolShit.org to learn more about the book
Follow Miki Agrawal on Twitter
More Information About This Episode
Download the full transcript here (coming soon)
Listen on iTunes, Stitcher , and SoundCloud
Related books:
Startupland by Mikkel Svane
Startup Mixology by Frank Gruber
The Freaks Shall Inherit the Earth by Chris Brogan
Relevant advice and tips:
5 Important Things That Every Entrepreneur Needs To Know About Starting a New Business
7 Signs That You Have What It Takes To Be An Entrepreneur
What did you like and not like about this episode? Fill out this one minute survey here.
What do you think about Miki Agrawal's book, Do Cool Sh*t? Share your review in the comments below: