A Preview of The Membership Economy with Robbie Kellman Baxter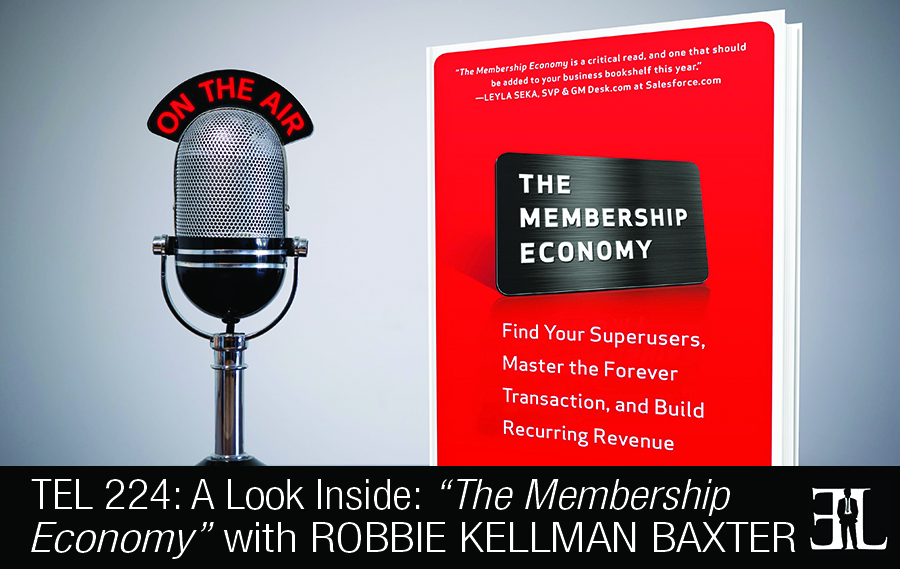 A summary of things you should know about The Membership Economy according to Robbie Kellman Baxter:
Introduction
In this episode online business expert Robbie Baxter gives an in-depth look inside her book, The Membership Economy, where she discusses how subscription-based businesses succeed.
In her book Baxter provides an online business roadmap that is packed with step-by-step digital strategies, useful resources, and case studies of super successful dot-com companies. The goal of the book is to show you how to get the most revenue from your online product, create an engaged community of customers, place your revenue on autopilot, and create sustainable loyalty programs.
This book is perfect for entrepreneurs who already or plan to sell an online, subscription-based product or service and are not sure where to begin when it comes to building revenue.
The Book's Unique Quality (4:30)
There are a lot of books about specific types of models, there are books that talk about different kinds of trends or behavioral economics but my book really takes a broad and strategic look at what is driving this major transformational trend. My book talks about specific examples across a wide spectrum of organizational structure and I look at how those trends apply across everything in between.
The Best Way To Engage (5:40)
I wrote this book to be read in whatever order you decide.
The Reader's Takeaway (12:29)
I want the readers to remember that the goal is no longer about the transaction being the finish line. The transaction is the starting line and the ongoing formal relationship with the customer is going to make the difference between the winners and the losers in the next 20 years.
A Deep Dive Into The Book (6:15)
The book is divided into four sections.
The first section talks about what the membership economy is, why it's happening right now, what the drivers are, and gives the reader a sense of what the implications are across the social and professional landscape.
The second section is what I think of as the deep meat of the book, the most tactical section and that goes into the seven steps to the membership economy which I outline in detail. This is where you can get tidbits that you apply to your own business right away. I talk about what the implications are of the membership economy for the way you organize your company. I discuss in detail everything you need to know about onboarding. I believe that most organizations under invest in onboarding new customers which needs to happen in the first 30 days. The fourth and fifth chapters, pricing and the use of free, talk about how your members should pay and how to think about your pricing structure. We talk about the use of subscription model s but we also talk about other sources of revenue that membership organizations can layer on top of one another in order to build a robust model. And I talk about the use of free as a really useful tool for extending the reach of your organization. I talk about technology and what kinds of technologies are available for managing ongoing relationships, building loyalty, and mastering retention. I talk about the importance of a focus on the customer over the product. I believe it's all about the customer and I go over how an organization can build out a customer success team and a culture that promotes a focus on the customer as more important than the product.
Section three goes into the six different types of organizations that are currently benefiting from the membership economy. That's the digital natives which are subscription businesses and online communities. Then I talk about small businesses and professional services firms and then I talk about nonprofits and professional societies and trade. And finally I talk about what I call the gateway to the membership economy which is loyalty programs.
In the fourth section I talk about the specific points of opportunity in the membership economy which are the hardest spots for entrepreneurs to be successful. This is things like going from idea to startup. I talk about going from being a hot startup that's really edgy to being a mainstream mature organization. I talk about going from offline business to online business and I also talk about going from a fixed product base pricing ownership model to an access model.
At the very end of the book I take you through very specific steps to get started at looking at your own business and get the reader thinking about where there might be opportunities to leverage the principles of the membership economy. And then I invite you to give me feedback on your own journey and ask me any questions you might have. Ultimately I want there to be a community around the book as well as the book that talks about community.
NOTE: That was just a summary. To get the full deep dive, play the audio clip at 06:15
The Credibility/Inspiration Of The Author (1:56)
I have been a strategy consultant for the last 25 years and for the last 15 years I've been an independent consultant. I have always been interested in how the psychology of the customer ties in with business models and currently run a successful consulting firm called Peninsula Strategies.
The inspiration behind writing this book was from a consulting project that I did about 12 years ago. I was asked to do a project at Netflix and I fell in love with their business model because of the recurring revenue and the quantity of data they were collecting about their customers. From that point on I really only wanted to work with companies that were thinking about those kind of issues and I felt like I needed to document my experience.
Other Books Recommended By The Author (16:07)
Getting to 50/50 by Sharon Meers and Joanna Strober
More Information About This Book and The Author
Buy The Membership Economy by Robbie Kellman Baxter on Amazon today
Visit MembershipEconomy.com to learn more about the book
Visit PeninsulaStrategies.com to learn more about Robbie and her services
Follow Robbie Kellman Baxter on LinkedIn and Twitter
More Information About This Episode
Download the full transcript here (coming soon)
Listen on iTunes, Stitcher , and SoundCloud
Related books:
Escape The Expected by Tom Trush
Unselling by Scott Stratten
High Paying Clients by Trevor Crane
Relevant advice and tips:
7 Recommended Books on Starting An Online Business
What did you like and not like about this episode? Fill out this one minute survey here.
What do you think about Robbie Baxter's book, The Membership Economy? Share your review in the comments below: