A Preview of Do It Marketing with David Newman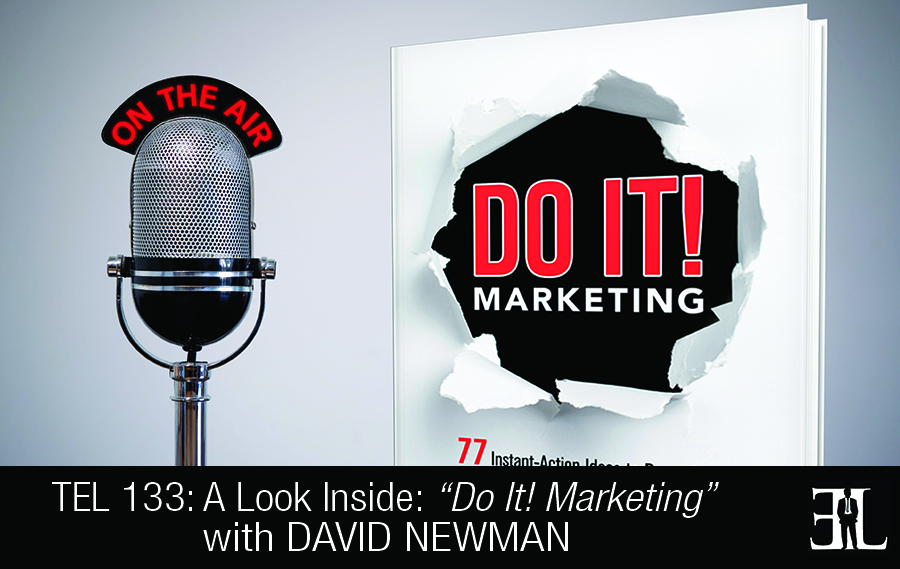 A summary of things you should know about Do It Marketing according to David Newman:
Introduction
In this episode David Newman takes a deep dive into his book, Do It Marketing, where he shares 77 instant, actionable tactics to boost sales, maximize profits, and beat the competition.
In his book Newman gives you concrete strategies, tactics, templates, and tools to regain the clarity, confidence, and control your need to succeed when it comes to marketing your business. The goal of the book is to teach you how to get noticed using the power of 3PR, position yourself as a go-to expert in your field, do social media right, generate a steady stream of referrals, and leverage enthusiastic advocates.
This book is perfect for entrepreneurs who have an understanding of their business and the marketing they need yet fail to see an increase in new prospects, customers, and revenue from their efforts.
The Book's Unique Quality (3:22)
My book is really different because it's a sales driven marketing book.
The Best Way To Engage (4:44)
This book is laid out more like a series of webpages. It's very graphical, visual, and modular so you don't actually need to read the book cover to cover.
The Reader's Takeaway
The whole 280 page book can be boiled down into four words, offer value, invite engagement. Everything we talk about in marketing, sales, and business development is about offering value and inviting engagement.
A Deep Dive Into The Book (6:41)
We start out with the overview chapter and it's called Marketing Rocks. This chapter is meant to take the fear, uncertainty, and doubt of marketing away. Marketing needs to be easy, effortless, and enjoyable and if it's not you're probably doing it wrong.
The second part of the book is about them, not you and the title is It's About Them, Really. We talk about who are you, who is your business, and your product, services, and programs in the context of your prospects. So learning to speak prospect language about prospect problems is the first big 'ah ha!' insight in this second part of the book.
The next part of the book is called Learn to Speak Prospects. In this section we talk about messaging, about what to say and how to say it so that you punch through the noise.
From there we go into Expert Positioning and this really is the core of my work as a coach and a consultant. It's positioning that business owner or entrepreneur as the go-to expert in their field. This is a combination of what I call your 3 PR game plan. And 3 PR is Personalized Professional Public Relations which is speaking, publishing, and social media. The speaking builds your visibility, the publishing builds your credibility, and the social media builds your share ability. There is a whole section on social media and about how not to be an idiot on social media.
The next part of the book is the S word and the S word is Sales. In this part I talk about an easy effortless sales process, sales tactics and how to have a trusted advisor relationship with your prospects.
In the next couple of chapters I talk about getting better leads and getting better prospects. Because when you break down the sales process so many business owners and entrepreneurs believe that if they can get in front of more people they can make more sales.
We then go into a section about eliminating roadblocks and some of this is your personal productivity, some of it is around your calendar and others is around how to overcome some common objections.
The last couple of section of the book I talk about your business DNA. It's about really figuring out who is a great fit for you and who is not. We talk about your competition and the fact that many of times we are competing with idiots and the problem is that they are winning.
The section to last chapter we talk about personal success strategies and there we talk about what you need to do as the business owner.
The last section is about taking action and I close out the book with five marketing moves through business success which are move up, move in, move ahead, move aside, and move alone. And then we move to implementation because the last part of the book is the 21 day marketing launch plan. This plan takes all of the ideas that we have talked about and shows you how to implement them.
NOTE: That was just a summary. To get the full deep dive, play the audio clip at 6:41
Notable Quotes From The Book (25:22)
"Action gives you traction." – David Newman
The Credibility/Inspiration Of The Author (0:56)
I run a company called Do It Marketing and coincidentally that is also the title of my book. I work with consultants, entrepreneurs, small business owners, and independent professionals who want to do a better job with their marketing and grow their business. I live outside of Philadelphia Pennsylvania with my beautiful bride of 30 years and two kids. Our son Charlie is 19, our daughter Becca is 22 and life is an ongoing adventure.
It really was founded in my coaching, consulting, and speaking business. So many small business owners, entrepreneurs, and independent professionals are stuck. This is causing so much headache and frustration that a book like this needed to be written.
Other Books Recommended By The Author (26:34)
Linchpin by Seth Godin
More Information About This Book and The Author
Buy Do It! Marketing by David Newman on Amazon today
Visit DoItMarketing.com to learn more about the book and access the free exclusive content
Follow David Newman on Twitter and Facebook
More Information About This Episode
Download the full transcript here (coming soon)
Listen on iTunes, Stitcher , and SoundCloud
Related books:
Trendology by Chris Kerns
Digital Bacon by Alex Rodriguez
Traction: A Startup Guide To Getting Customers by Gabriel Weinberg and Justin Mares
Relevant advice and tips:
5 Reasons Why Your Marketing Sucks
5 Mistakes Entrepreneurs Make With Marketing and Branding
What did you like and not like about this episode? Fill out this one minute survey here.
What do you think about David Newman's book, Do It Marketing? Share your review in the comments below: