A Preview of Evergreen with Noah Fleming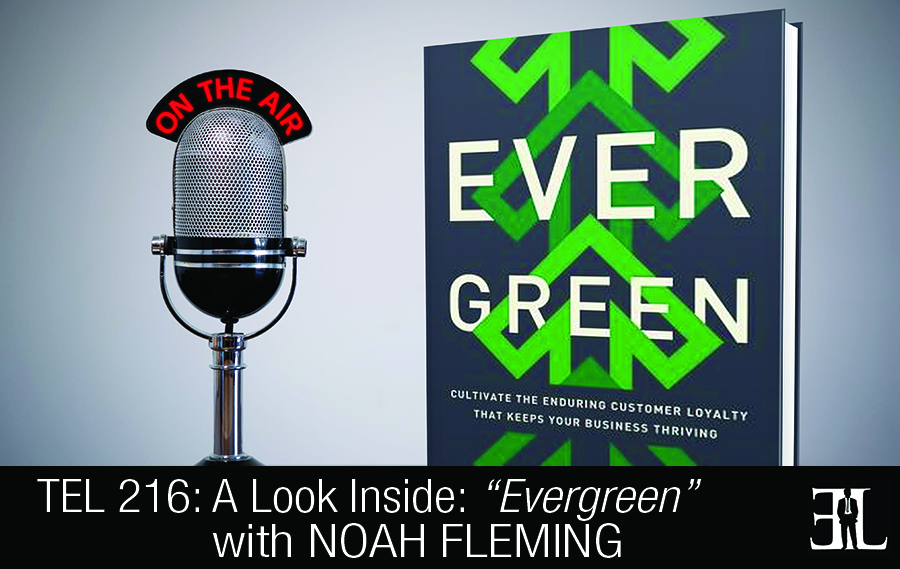 A summary of things you should know about Evergreen according to Noah Fleming:
Introduction
In this episode Noah Fleming takes a deep dive into his book, Evergreen, where he reveals a way to create longer lasting relationships with customers.
In his book Fleming provides a practical roadmap packed with strategies, stories, and tips on improving your business by cultivating deeper, more profitable relationships with your customers. The goal of the book is to teach you 3 significant rules that create loyal customers, how to build effective loyalty programs, and how to incorporate social media into any loyalty plan.
This book is perfect for entrepreneurs who run a business based on building relationships with customers and need a simple guide for creating the best customer loyalty system.
The Book's Unique Quality (4:11)
What makes it different is that I start long before the point of closing the sale. I believe that customer loyalty and customer relationships start long before the sale has ever been made. Evergreen provides a deep look at what happens before the sale, to the point of the sale, and then into what I call happily ever after.
The Best Way To Engage (5:40)
The book is broken down into two parts. The first half of the book is a very strategic framework and so I recommend reading this part because I think it's applicable to any type of business. That said if you've already got a successful business you can certainly hop to the second half of the book which is very tactical in nature with very specific action steps you can take.
The Reader's Takeaway (13:18)
I want the reader to understand that everything you do is equally about getting and equally about keeping the customer. Just understanding this one principle can change your entire outlook of your company, business, or career.
A Deep Dive Into The Book (6:58)
As I mentioned there are two sections of the book. The first half is a strategic framework which I call The Three C's of Evergreen Company. Let me explain to you how this started. When I started to look at my own company I had subscription base services, I had my own online community, and I had really strong retention and loyalty. So I wondered if what I was doing was something I could apply to my own clients and so I did. I started to work with clients and I started to help them implement this strategic framework. Then as I started to research the book years later I started to look at bigger companies and I wanted to figure out the commonality between great companies that have truly loyal customers and that seem to thrive all year long. I started to notice there were three key things happening with the best entrepreneurs, the best solo professionals, and the best companies and they had these three things just right. So the first C is character and character is why you do what you do and I walk you through very specific steps to really build your character. The second C is community; the best companies in the world right now are building a strong sense of community amongst their customers. The third C is content and is the shorthand that I am using as the thing you give for money. So your content is your core product, you core service and the big mistake is to believe that content is enough to bring people back again and again. Content is not enough to bring people back so you want to make sure your character and your community really boasts up your content.
Once you define those three C's then you can get serious about learning about your customer base. In the next half of the book I walk you through how to learn about your different types of customers which I call Archetypes. This is where you start to tailor your sales and marketing messages to them on a much more personal level. I start to try and help people break away from the addiction mentality and help you really focus on where your ideal customers are right now. It's about how to most effectively, efficiently, and affordably reach them, attract them, and keep them as quickly as possible.
NOTE: That was just a summary. To get the full deep dive, play the audio clip at 06:58
The Credibility/Inspiration Of The Author (1:23)
I am a Canadian who lives in Ontario Canada. I am also a father of two girls and married ten years now. In the business side of my personal life I am a strategic marketing consultant. I work with small to midsize companies but also with entrepreneurs personally mentoring and coaching them.
I saw in my clients an addiction to the new customer mentality that we need to focus all of our efforts into driving people through the doors. I knew there had to be a better way to do it which inspired me to do my research and write about my findings.
Other Books Recommended By The Author (17:50)
Linchpin by Seth Godin
More Information About This Book and The Author
Buy Evergreen by Noah Fleming on Amazon today
Visit NoahFleming.com to learn more about Noah, his book, and newsletter
Follow Noah Fleming on Facebook and Twitter
More Information About This Episode
Download the full transcript here (coming soon)
Listen on iTunes, Stitcher , and SoundCloud
Related books:
Customer Experience 3.0 by John Goodman
High Paying Clients by Trevor Crane
Nice Guys Finish First by Doug Sandler
Relevant advice and tips:
5 Simple Ways An Entrepreneur Can Attract Customers To Their Business
How To Become an Effective Communicator in the Business World
What did you like and not like about this episode? Fill out this one minute survey here.
What do you think about Noah Fleming's book, Evergreen? Share your review in the comments below: