A Preview of Widgets with Rodd Wagner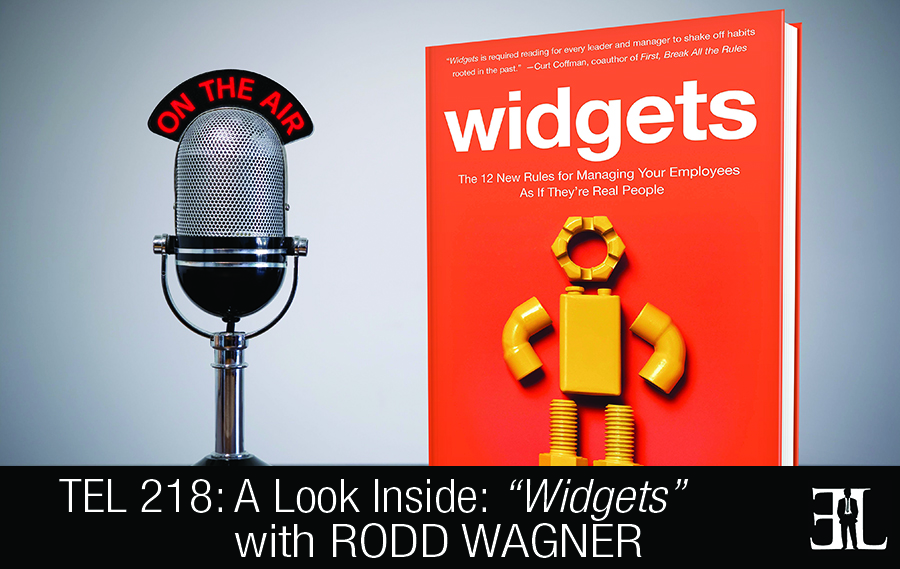 A summary of things you should know about Widgets according to Rodd Wagner:
Introduction
In this episode Rodd Wagner shares an in-depth preview of his book, Widgets, where he discusses 12 rules for managing employees as if they're real people.
In his book Wagner provides important and actionable insights into the behavioral drivers of employee engagement – what motivates them, how they think, how they learn, how they act. The goal of the book is to teach you how to use reciprocity as a key motivator in employee performance, adapt new employees to the work environment, and become the best manager you can be.
This book is perfect for entrepreneurs who want to run an organization with a determination to engage, motivate, and positively affect employees as well as people in general.
The Book's Unique Quality (2:57)
I think two things make Widgets different. One is that I questioned all the assumptions because so many things had changed. This is not just another engagement book, I really took stock using research, trends, friend's research, and powerful stories to really help a leader, manager, or entrepreneur understand where we are right now. I think the other thing that makes it different is that I did begin my career as a police reporter so my writing style is not that of a typical business book. I call it as I see it.
The Best Way To Engage (4:38)
I would suggest starting with the first two chapters that lay the foundation but from there if people want to jump around it's not a problem at all. Actually, in the case of this book, at the very beginning we give the reader a web address where they can take the self-assessment that emerged from the research that was used to write the book.
The Reader's Takeaway (13:56)
The most important point that I tell leaders who I am advising is that your employees motivation is in your hands, not because you control them but because people are so reciprocal. I guarantee that if you follow the twelve new rules of engagement they will do for your company what you need them to do.
A Deep Dive Into The Book (6:58)
There are twelve central chapters, one about each of the new rules. And then there are two chapters at the beginning of those twelve rules and two chapters at the end. The first two chapters start by framing human nature and our current situation.
The number one rule is get inside their heads, individualize and understand that person to figure out where they are right now.
The second rule is to make them fearless, don't freak them out or have them so consumed by what's going to be happening with the business that they can't do their job.
Third rule is to make money a non-issue. Make sure that you are paying them competitively and generously so that it takes money off the table and they can concentrate on their jobs.
The fourth rule is to help them thrive. Make sure that what you are doing at the company is not burning them out.
The fifth rule is to be cool. This is not a rule that would have come up ten years ago but people want to work for a cool company and have an enjoyable time at work.
Sixth rule is to be boldly transparent and tell people everything you can possibly tell them. We live in an age of social media and they are going to find out anyway so you should be the one to tell them.
Number seven is to not kill the meaning. People come to your company because there is something about your organization that they already find meaningful.
Number eight is to see their future. We are future oriented people and you need to be as deliberate about where your employees will be in five years as where you want your company to be in five years.
Rule number nine is to magnify their success. Help your employee know when they've done a good job. Rule ten is to unite them and set up the conditions where they can be a solid team. Number eleven is let them lead. And the last rule is to take it to extremes.
The second to the last chapter of the book is a cautionary tale about all the dumb things that get done in an employee engagement work and how they can backfire on you.
And the final chapter is about what I call the Profitable Pursuit of Happiness. There are a lot of people in the engagement industry that say don't make your people happy, just make them engaged by which they really mean shut up and get back to work. This is something employees won't put up with.
If you want people to work as hard as they can for the company they are going to expect happiness in the bargain. (highlight to share)
NOTE: That was just a summary. To get the full deep dive, play the audio clip at 06:58
Notable Quotes From The Book (14:49)
"It's not that corporations are bad and people are good. Corporations are powerful and people are reciprocal. How an enterprise wields its power determines how its employees will deliver." – Rodd Wagner
The Credibility/Inspiration Of The Author (0:34)
I began my career as a newspaper reporter covering police and the courts and so I developed a very direct business writing style. I was frustrated by the way I saw my newspaper at the time being managed and so I went to business school and got a MBA. From there I migrated to a couple research jobs on the business side of media companies and eventually joined Gallup where I was a principle for twelve years. I've been a practice leader at BI World Wide for the past three years during which my colleagues and I have been doing the research that lead to the book, Widgets.
Other Books Recommended By The Author (16:57)
The Good Jobs Strategy by Zeynep Ton
More Information About This Book and The Author
Buy Widgets by Rodd Wagner on Amazon today
Visit WidgetsTheBook.com to learn more about Rodd and his book
Follow Rodd Wagner on Twitter
More Information About This Episode
Download the full transcript here (coming soon)
Listen on iTunes, Stitcher , and SoundCloud
Related books:
Make It Matter by Scott Mautz
Managing Whole People by Mark Herbert
The Hidden Leader by Scott Edinger
Relevant advice and tips:
5 Characteristics of A Great Leader
What did you like and not like about this episode? Fill out this one minute survey here.
What do you think about Rodd Wagner's book, Widgets? Share your review in the comments below: