A Preview of Trendology with Chris Kerns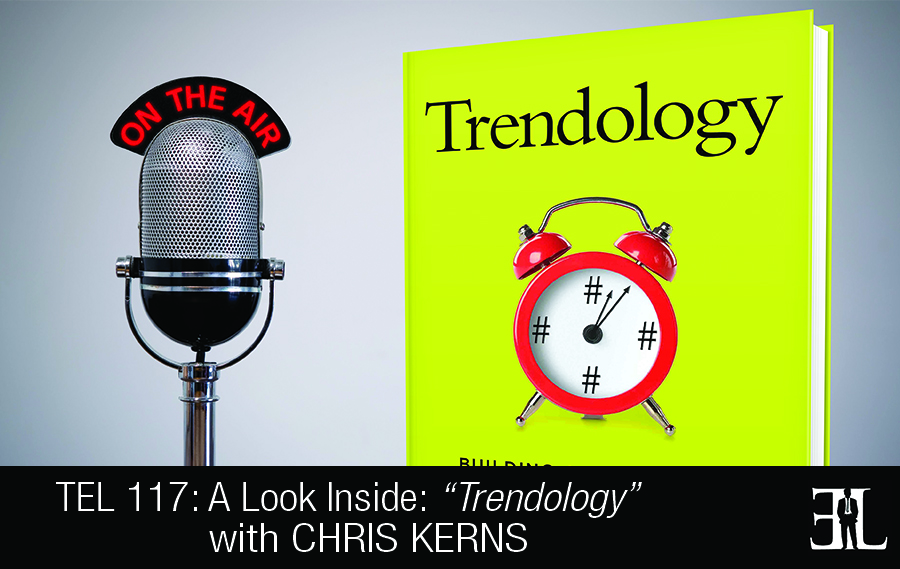 A summary of things you should know about Trendology according to Chris Kerns:
Introduction
In this episode Chris Kerns takes a deep dive into his book, Trendology where he shares the latest technologies that will amplify your marketing efforts tremendously.
In his book, Kerns gives you an action plan for developing real-time marketing to engage your audience on topics that are trending in the media by using his data-driven approach. The goal of the book is to teach you how to measure the performance of your social strategy, leverage new trends on a daily basis, build a data-driven team and avoid the marketing strategies that don't work.
This book is perfect for entrepreneurs who have a marketing plan in place or are developing one that includes the use of social media and other digital marketing platforms.
The Book's Unique Quality(4:38)
There are a few books behind real time marketing but this is the first book that looks at the data behind it. It's about the performance which to me means it's about the audience and if they want brands to be doing this. And the data is telling you that absolutely they do, they respond in huge ways. They share that content more, they reply to it more, and they engage in conversations with brands.
The Best Way To Engage (5:35)
There are two main parts of the book if you divide it in half. The first half is looking at lots of different types of events and understanding how brands are using Twitter during big and small events. The second half of the book is more around how to bring this into your framework, how to build a team, set goals and how to build a data driven process. And also lots of interviews with industry leaders about where this whole real time thing is headed.
The Reader's Takeaway (17:55)
The biggest takeaway that I have seen in all sorts of different forms of what we call real time marketing is that it's not a winner take all. And that the distribution of success is massive. It's rarer for you to fail at real time marketing than it is for you to succeed at it.
A Deep Dive Into The Book (7:46)
I begin the book with one of the most popular stories out there about real time marketing and that's the story about Arby's and the social media manager there name Josh Martin. This was one of the most successful examples of real time marketing which looked like something that somebody did off the cuff but the whole point of this being the intro to the book is that there is actually a lot of planning and process involved. To be spontaneous in social media sometimes it takes a lot of planning. Then I jump in and I talk about real-time marketing and then I walk through some of the current climate around it.
From there I jump on over into real time. I kick off real time with the thing that most people know about which is big events like the Super bowl, the Emmys and the Golden Globes. Brands have war rooms set up so that when a micro moment happens within that event they create quick content around that. So what I look at is not only how many brands are doing that but how effective is it and what's the result of brands doing that. And what I found is that it works really well and the audience really likes it.
In the next chapter I take a turn from the big events to the smaller events. This takes two forms; one is smaller events like holidays that you know are coming. When brands are doing social media around those and being relevant to their audience based on that smaller event. And then there are all these quirky little holidays that tons of brands are jumping in on these days. One is called May the 4th which is Star Wars day. I saw a ton of brands jump in on that this year and got a great reaction from the audience. Not only do we look at our brands using this type of content to talk to their audience but also how effective it is. And then I also look at daily trending topics that pop up out of nowhere and brands jumping on those. These are things you can't see coming at all but they can still give your brand a big lift in your social engagement numbers.
After I walk through all the different times of real time marketing I then pivot the book over to understanding how to build out a team and a process around it. I kick off with how to build a data driven foundation for being more nimble in your organization. I show you the processes you have to have in place and the groundwork as well.
In the next chapter I talk about goals. Social media goals have always been a hot topic around how to set goals and how to revise your goals as you are going. The overall finding that I had around goals is pretty similar to what I've always preached with social media which is you should be creating new goals when you're doing real time. If you are running a business everything you do should be supporting the goals that you have already in place.
In the next chapter I talk about the process. Real time marketing, because it is so quick turn, there can be a lot of confusion and mistakes made if you don't have the right team, process, and technology in place. I step through all those different ways to make sure that you are managing risk while you're jumping on the opportunity of real time.
In the final chapter is when I bring in the thought leaders from across the industry that are not only doing real time but are seeing the future of real time.
The Credibility/Inspiration Of The Author (0:57)
I am the director of analytics and research at Spredfast in Austin, Texas. We are one of the biggest social marketing platforms out there. We work with large enterprise clients to do everything around social media that they are looking to do. Everything from one on one conversations all the way through finding content that's out there and amplifying current conversations about a brand. My job every day is around the data behind social media.
Trendology is all about real time marketing but more importantly it's about how brands are looking at trends and leveraging them on social media. There was a lot of conversation about it which was interesting because I work in social media. But based on my background and what I do the interesting thing to me was that there was no data about it. No one was really look at the performance or asked if it actually worked. That is when I started pulling data and that was the inspiration behind the book. The book looks at the 100 biggest brands in the world and how they work in social media and then jumps into their use of real time and trending topics.
Other Books Recommended By The Author (22:21)
The Signal and the Noise by Nate Silver
Ready Player One by Ernest Cline
More Information About This Book and The Author
Buy Trendology by Chris Kerns on Amazon today
Visit TrendologyBook.com to learn more about Chris's book
Visit Chris-Kerns.com to learn more about Chris
Visit Spredfast.com to learn more about his marketing automation system and company
Follow Chris Kerns on Twitter and Facebook
More Information About This Episode
Download the full transcript here (coming soon)
Listen on iTunes, Stitcher , and SoundCloud
Related books: Digital Bacon by Alex Rodrigues | A World Gone Social by Ted Coine and Mark Babbitt | Guerrilla Marketing in 30 Days by Jay Levinson and Al Lautenslager
Relevant advice and tips: 5 Mistakes Entrepreneurs Make With Marketing and Branding | 5 Reasons Why Your Marketing Sucks
What did you like and not like about this episode? Fill out this one minute survey here.
What do you think about Chris Kerns' book, Trendology? Share your review in the comments below: