A Preview of Top Dog with Andy Bounds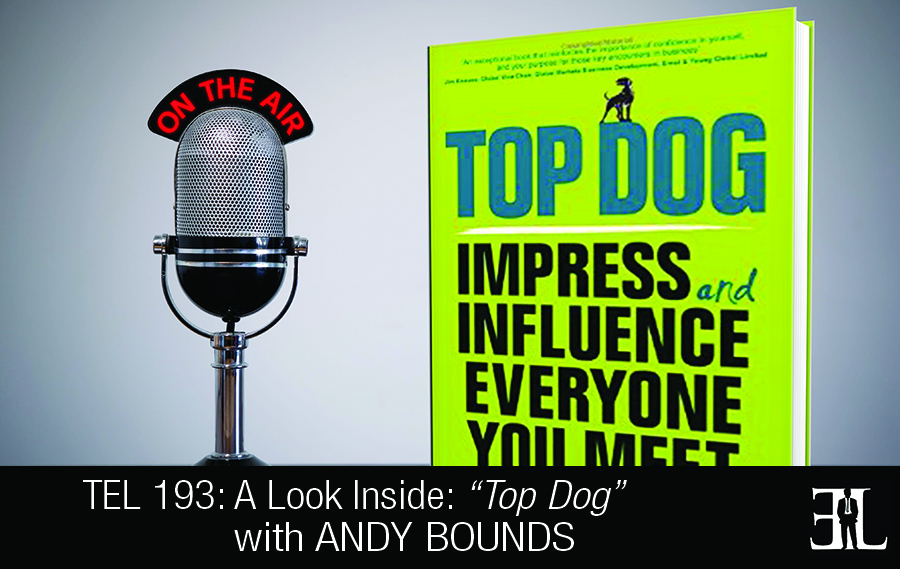 A summary of things you should know about Top Dog according to Andy Bounds:
Introduction
In this episode Andy Bounds reveals all his insights on his and Richard Ruttle's book, Top Dog, where they share techniques to impress and influence everyone you meet.
In their book Bounds and Ruttle provide expert advice and examples on becoming a more effective and sought-after communicator when it comes to any conversation from dating to sales. The goal of the book is to teach you proven communication strategies that will heighten your ability to spark conversations, make you the center of attention, and help you take charge of a conversation.
This book is perfect for entrepreneurs who frequently attend networking events, make sales calls, or live the dating life and need simple ways to enhance their charisma when talking to others.
The Book's Unique Quality (3:23)
There are three things and firstly it works pretty much instantly. Secondly, my co-author and I have two very different perspectives, he works inside a very large organization and I have my own consultancy and work outside large organizations and having the both inside and outside helps to see things from both points of view. Lastly, Richard has bred dogs all his life and researched a lot about pack behavior you see in dogs and we reference some ways you can learn from animals about becoming the top dog.
The Best Way To Engage (4:53)
All of our chapters are self-contained and so you can skip around where needed.
The Reader's Takeaway (14:38)
It would be to be an equal of the person you are talking to. In other words you're a top dog too.
A Deep Dive Into The Book (4:53)
The first chapter is titled Lead the Pack which is about being the top dog yourself. Chapter two is about unlearning the bad habits that hold you back. Without sometimes realizing it we are all creators of habit even if that habit didn't work last time you did it. So we start off with simple ways that you can unpick what you do. From that we then start looking at ways to make a great first impression and we all know how important first impressions are. We show you how to create a great very first impression and if you start off well that impression will last a long time. Just things like practicing how you introduce yourself can set the tone for everything. So the book talks about how to do an ice breaker so the person loves you very quickly but it also talks about what not to do so we come across as top dog from sentence one. The next chapter covers how to get meetings, how to prepare for meetings, and how to deliver a great first meeting. Assuming that's gone really well there is then going to be a second meeting and so we have a chapter called Keep Walking which is how you build momentum in subsequent meetings. And eventually, if that goes well, we need to get a proposal in place and so the next two chapters talk about proposals and presentations. The finally chapter is called Stay Top Dog and the reason we put this in is because it's very easy to hear good ideas, get it and fix it, but it's also just as easy to go back to your old habits after the excitement wears off.
NOTE: That was just a summary. To get the full deep dive, play the audio clip at 04:53
Notable Quotes From The Book (16:33)
"Nobody cares what you do, they care what you cause." – Andy Bounds
The Credibility/Inspiration Of The Author (0:32)
I am one of the two authors of Top dog, the other one is Richard Ruttle. I have my own consultancy practice and what I do is I help large organizations sell more. I've worked in 30 countries and Top Dog is my third book. I hope that readers will be able to read Top Dog and understand exactly what they need to do to progress their business.
The inspiration was to help people in conversations when they think the other person is more important than them. The inspiration is to get rid of all that frustration out there that so many entrepreneurs feel when having a conversation with important people and it not going as well as they want and this book will make sure that it does.
Other Books Recommended By The Author (19:18)
If Disney Ran Your Hospital by Fred Lee
More Information About This Book and The Author
Buy Top Dog by Andy Bounds and Richard Ruttle on Amazon today
Visit AndyBounds.com to learn more about Andy
Visit AndyBoundsOnline.com to learn more about Andy's online video club
Follow Andy Bounds on LinkedIn and Twitter
Connect with Andy via email here
More Information About This Episode
Download the full transcript here (coming soon)
Listen on iTunes, Stitcher , and SoundCloud
Related books:
Charisma on Command by Charlie Houpert
What More Can I Say by Dianna Booher
The Seven Levels of Communication by Michael Maher
Relevant advice and tips:
How To Become an Effective Communicator in the Business World
What did you like and not like about this episode? Fill out this one minute survey here.
What do you think about Andy Bounds' book, Top Dog? Share your review in the comments below: