5 Lessons Entrepreneurs Can Learn From Jon Gordon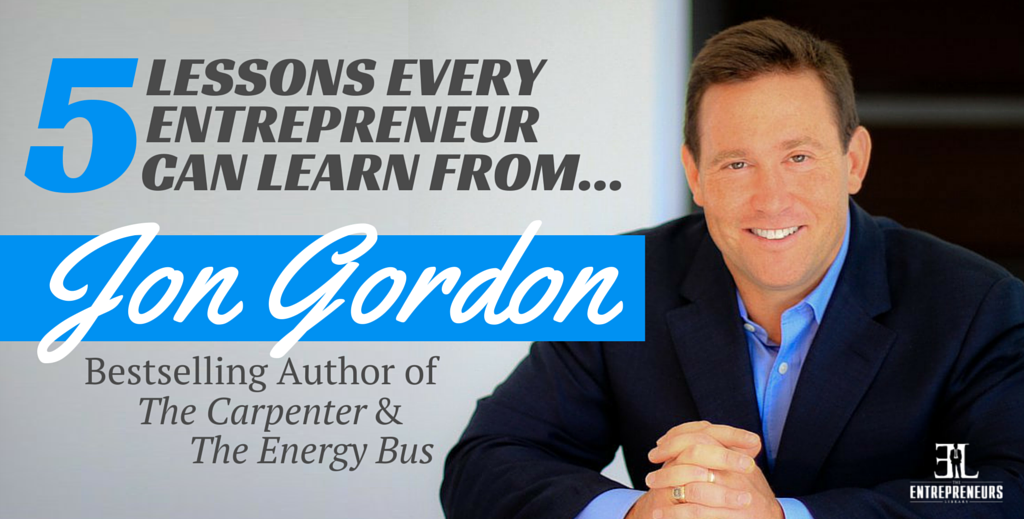 Who is Jon Gordon and what you can learn from him:
For the budding entrepreneur, there are many lessons that can be learned from the teachings of Jon Gordon. No matter how old a person is or what their level of business experience is, they are able to gain important perspective by practicing what he preaches. The following are the five key lessons to be learned from Jon Gordon.
1. Discover Your Passion
Gordon is consistent with his message, telling his acolytes about the importance of discovering what they are passionate about and pursuing it. He believes that we are all put on this planet for a specific purpose and that life is meaningless unless you take the time to chase it.
Fortunately, he also teaches people that their passion may not reveal itself immediately. While you may not know what your passion is at the current moment, you must live your life in a way that increases your chances of finding it.
The best way for a person to find their true calling is to seek certain jobs and experiences that will nurture their strengths and minimize their weaknesses. Everyone has a gift, something that they were born to accomplish. Identifying that gift and allowing it to blossom is crucial to a person's long term success and happiness.
2. Beware Of Your Hobbies
When people are trying to figure out what their gift is and how to fulfill their purpose on this planet, they will often select hobbies as their default strength. Jon Gordon teaches us that just because we love spending time doing something, this does not mean that we will be able to make a career out of it.
Someone may truly enjoy spending time on their social media pages, but this does not mean that they should be working for Twitter or Facebook. You may enjoy making food for your friends and family. However, this does not mean that you have what it takes to be the next top chef.
It's important to zero in on the aspect of the hobby that you truly love the most and focus on that. For example, a person who enjoys restaurants and fine dining may believe that they need to own a restaurant in order to realize their dreams.
There is a way for every person to participate in their hobby, without simply trying to monetize something that they would do for free anyways.
3. Learn From Past Experiences
Even if the current job or career that you have is not totally fulfilling, there is no reason why you should not be able to gain valuable lessons and insight from it. Every experience that you have, no matter how good or bad it is, prepares you for the future in ways that you are not able to currently imagine.
Being forced to take a job that is below your current station or is not related to the field you'd truly like to be working in can be a tough blow. But the person who dedicates themselves to the task at hand and focuses on how they can help the company or business they are a part of can open up doors to new opportunities down the line.
Nothing in life is permanent and the person who realizes this fact and decides to simply gain as much as they can from the situation they are in positions themselves for bigger and better things. Each moment of our lives, even those that seem truly insignificant, prepares us for what's to come.
4. Your Dream Job Isn't The One You Dreamed Of
Jon Gordon teaches us that the first step towards our dream job is to quit the one we have. But, he preaches the importance of quitting that job for the right reasons. Our dream job will not materialize just because we get frustrated with the job we have and walk off in a huff.
People spend their whole lives preparing for a job that they've envisioned in their mind's eye since they were young. Life does not tend to work out that way. Most times, we tend to end up with a great career that is unlike the one we spent our lives dreaming about and preparing for.
The dreams we have during childhood and throughout our formative years can help to guide us, but should not be seen as a blueprint for living. Keeping your options open allows you to end up with an amazing career, one that you did not see coming.
5. The Future Can't Be Rushed
We are always in a hurry to move on to the next thing, before we've even figured out the present moment. Jon Gordon believes that there is a seed inside all of us and that the process of nurturing this seed so that it can grow into a proper plant should not be rushed for any reason.
It is human nature to want things to happen for us right now. People tend to be very impatient, not realizing that if they get what they want before they are truly ready, they may not be able to rise to the occasion.
There is a certain process that must be adhered to and work that needs to be done along the way. The path to achieving your purpose does not occur in a linear fashion. Allow the process to prepare, shape and mold you, so that when opportunity finally does knock on your door, you are prepared to answer.
More Information About Jon Gordon
Preview the books, The Carpenter and The Energy Bus with Jon Gordon himself
Buy The Carpenter and The Energy Bus by Jon Gordon on Amazon today
Visit JonGordon.com to learn more about Jon and his books
Follow Jon Gordon on Twitter and Facebook
Have you read any books by Jon Gordon? What have you learned? Share your story in the comments below: