A Preview of Connect – The Secret LinkedIn Playbook with Josh Turner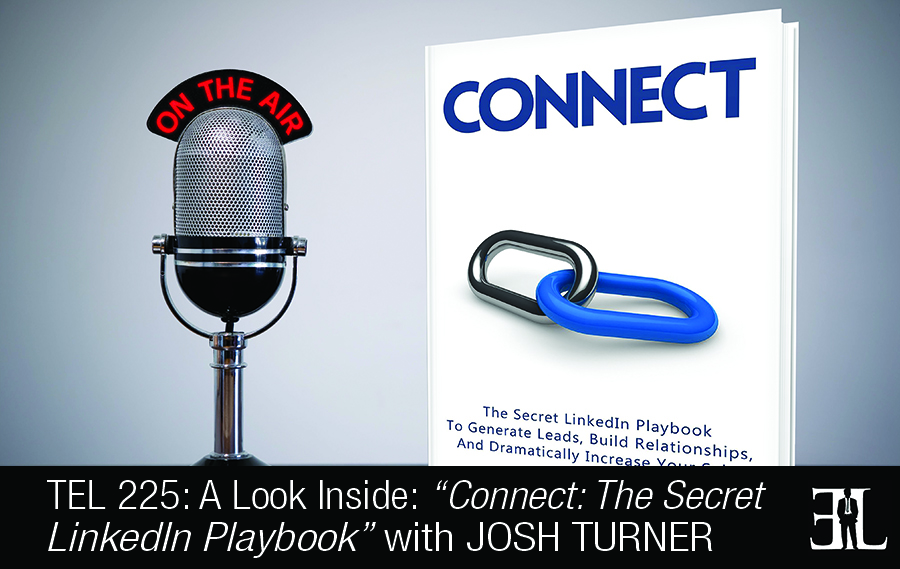 A summary of things you should know about Connect – The Secret LinkedIn Playbook according to Josh Turner:
Introduction
In this episode Josh Turner takes a deep dive into his book, Connect, where he shares some unique LinkedIn strategies to generate leads, build relationships, and increase sales.
In his book Turner provides a step-by-step guide that outlines simple LinkedIn activities that are designed to advance your business when it comes to building influence, finding partnerships, and business growth. The goal of the book is to show you the most effective ways to use LinkedIn, how to use LinkedIn for marketing purposes, and how to build a profile that attracts paying clients.
This book is perfect for entrepreneurs who run or plan to run a business that involves building a network of relationships and need help developing a social networking strategy on LinkedIn.
The Book's Unique Quality (6:07)
I wanted to make sure that this was not just another LinkedIn tips and tricks type of book. This book is going to stand the test of time because it's not based on how you use a certain tool it's based on a philosophy and a way of marketing that just so happens to leverage LinkedIn. It's a time tested way to generate lots of leads online by building relationships.
The Best Way To Engage (7:19)
This book can be read straight through or you can cherry-pick your way around.
The Reader's Takeaway (15:34)
If you take the time to build the relationship first then when you ask for a phone call or a meeting your response rate is going to go way up.
A Deep Dive Into The Book (8:11)
The book starts out with comparison to what my business looked like before and what it looks like now that I've designed and applied this system. This is the jumping off point for explaining the system and why it works.
One of my favorite chapters in the book is Caveman Psychology where I walk you through an evolutionary psychology and why it works. I set the stage with the things that you need to do from a psychological standpoint to position yourself properly to earn the right for someone to even agree to take a meeting with you. I walk you through a new marketing blueprint for how to put these things in place online and specifically we dive really deep into LinkedIn and into webinars. I explain how to set up the LinkedIn campaign that will achieve all of this all the way from the basics to some of the more advanced strategies. We go all the way from identifying your target prospects, to then bringing them into your funnel, to working them through processes that will generate leads.
I also dive really deep into webinars and the reason behind that is because when I look at my business, the growth that we've achieved, and the successes we've had is fueled in big part by webinars. It's a combination of utilizing LinkedIn in this very systematic type of way but also webinars. My business generates somewhere between eight to ten thousand webinar registrations every month. I walk you through what has been successful for us so that you can determine how you can incorporate webinars not only into your business but then how to integrate them with LinkedIn campaign. This will get you in front of the right prospects and allow you to use it as a great lead generating tool. These are the two broad components of the book and within them we talk about positioning yourself as a leader and the tactical things you can do within LinkedIn to achieve that.
We talk about how to really develop relationships the right way by sharing content and the right way to put it all together so that it positions you above the fray. We talk a lot about LinkedIn group strategies and how you can leverage a group to generate a ton of leads. We talk about how to track all of this activity because when you have thousands of prospects that you're working through these processes within LinkedIn you have to have a very organized structure for keeping tabs on it.
Finally, the chapter that you might get equal value from is a chapter on what to do once you are face to face or on the phone. I break down six types of sales calls that you will encounter as a result of utilizing the process. I give you scripts as well as the general framework for how to conduct those calls to position yourself in the best light and stay classy but at the same time have a productive sale call.
The end stage is getting people all the way through the funnel of this system and getting them to the point where they agree to a phone call or meeting so that you can really talk business.
NOTE: That was just a summary. To get the full deep dive, play the audio clip at 08:11
Notable Quotes From The Book (17:44)
"When a copier sales person cold calls a purchasing manager whom he has never met is it any surprise that the purchasing manager will most likely never return that call?" – Josh Turner
The Credibility/Inspiration Of The Author (1:57)
I started using LinkedIn for business development way back in 2006 and at the time I was a CFO of a construction and manufacturing company in St. Louis. Unfortunately that company was hit hard by the down turn in the economy and it was forced to shut its door's which was when I decided to go work for myself. I first started working as a freelance CFO and one of the ways I was able to grow the business was leveraging LinkedIn, not only the network I had built for myself prior but doing more things proactively. Fast forward to 2011 I had a couple of clients that I was helping in finance ask me about the different strategies I was using with LinkedIn. After trying to explain these strategies we realized it would just be easier if I did the work for them and that was when I built Linked Selling . Now we have a team of 14 with clients all over the world in all sorts of industries and we've had a lot of fun along the way.
This book is the playbook that my company has used to triple our revenue every year for the last three years and the book that we've used to generate millions of additional revenue for our private clients. I figured there were a lot of other businesses out there that would want to get their hands on this. The inspiration was that when I first started working for myself in 2010 I was frustrated and getting very little out of networking because most of the people weren't my prospects. This book and the systems that I walk you through are the systems that I designed in response to that. I figured out how to use LinkedIn to keep my name in front of thousands of targeted prospects and then leverage a relationship building a process that works the reader through a set of messages that culminates in a request for a meeting or phone call. It's taken us a few years to perfect the system but now we are there and I am super excited to get this message out to those who it will make a big difference for.
Other Books Recommended By The Author (20:44)
Ask by Ryan Levesque
More Information About This Book and The Author
Buy Connect by Josh Turner on Amazon today
Visit TheConnectBook.com to learn more about the book and get the special offer
Visit LinkedSelling.com to learn more about Josh's services
Visit LinkedUniversity.com for more exclusive content from Josh and his team
Follow Josh Turner on Facebook and Twitter
More Information About This Episode
Download the full transcript here (coming soon)
Listen on iTunes, Stitcher , and SoundCloud
Related books:
A World Gone Social by Ted Coine and Mark Babbitt
Escape The Expected by Tom Trush
Unselling by Scott Stratten
What did you like and not like about this episode? Fill out this one minute survey here.
What do you think about Josh Turner's book, Connect? Share your review in the comments below: