A Preview of Vibrational Money Immersion with Ray Higdon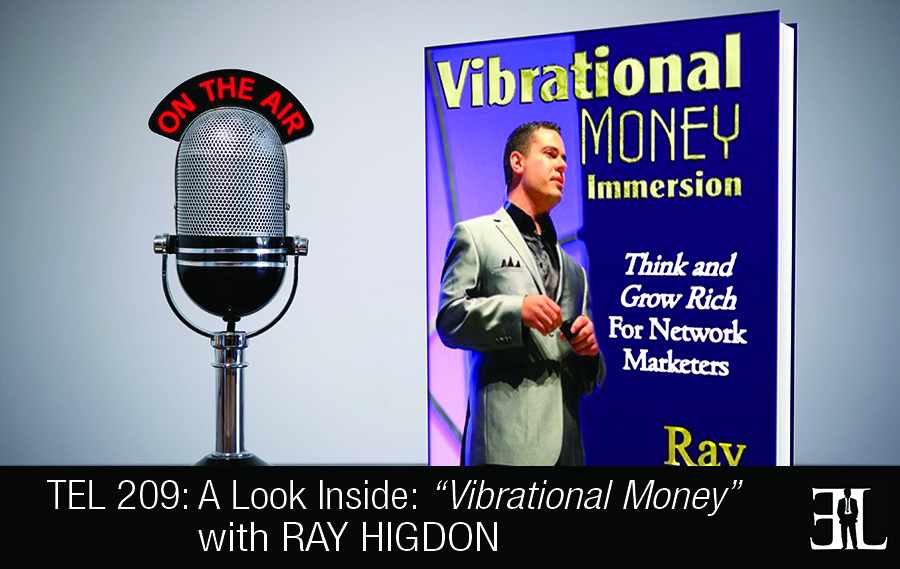 A summary of things you should know about Vibrational Money Immersion according to Ray Higdon:
Introduction
In this episode Ray Higdon takes a deep dive into his book, Vibrational Money Immersion, where shares a network marketing guide to better help you make a living from home.
In his book Higdon provides a roadmap filled with practical advice, assignments, and principles that are designed to show you how to become the best network marketer in the field of multi-level marketing. The goal of this book is the help you train your brain to craft your own success, master the art of networking, enhance your sales skills, and overcome multiple obstacles that get in the way.
This book is perfect for entrepreneurs who want to be able to work from home and are interested in multi-level marketing, but want a better understanding of the principles.
The Book's Unique Quality (3:24)
Some of the different things about my book are that I am not speaking from theory. I'm speaking exactly how I went from dead broke personal foreclosure to earning over a million dollars, becoming the number one income earner, and having over 85% of an entire network marketing company in my team.
The Best Way To Engage (4:35)
Originally this was a weekly audio course with seventeen chapters. My suggestion would be to go through the book once quickly and then look back to see which one of the chapters jumped out at you and go back through those particular chapters in more detail.
The Reader's Takeaway (8:54)
Stop looking at what you think you know and look at your results. I don't know how many times I've heard someone tell me, oh I've heard that before, but they are dead broke. If you do not have the results in your life that you wish you had then this book can help you understand why you are where you are at and how to get to that next level.
A Deep Dive Into The Book (6:11)
This book is all about mindset. It's based on the original book of Think and Grow Rich but added with original stories on exactly how and why you have the type of results in your life that you do. So if you've been wondering why you've been working really, really hard but don't have a whole lot of results to show for it, this book reveals that. This book will tell you exactly, in so many different scenarios, how your thinking is dictating your results.
I dive deep and talk about my divorce, my child abuse as a kid. I talk about how I got into foreclosure and what exactly got me there but also what exactly got me out of it. And so this is a guide to improving your mindset. Yes, it's targeted for network marketers but I've had people in real estate, insurance, and car sales, go through it and tell me that it really helped them out because mindset is the major factor in anything you do.
NOTE: That was just a summary. To get the full deep dive, play the audio clip at 06:11
Notable Quotes From The Book (10:30)
"The ability to say woe is me shows the abundance of inactivity." – Ray Higdon
The Credibility/Inspiration Of The Author (0:48)
I was in corporate America and I didn't feel like I was living my highest and best purpose and also spending more time with picture of my kids than the real thing. I would go to work when they were asleep and come home to them already in bed and that just wasn't the life that I wanted to work toward. And so I went out on my own and started a real estate business that didn't work out and in 2009 I found myself dead broke. It was then when I reinvented myself and have since built a multimillion a year coaching and training business. I also have a very successful blog and social media presence and because of all this my lifestyle is a lot different.
A lot of entrepreneurs attribute some of their successes from the content that's contained within Think and Grow Rich. What I did was I took the public domain version of Think and Grow Rich and I kind of translated it not just to today's world but also for the actual network marketer. I've been in network marketing for over five years and there are a lot of people that appreciate that translation of how this actually and directly applies to their profession.
Other Books Recommended By The Author (12:28)
The War of Art by Steven Pressfield and Shawn Coyne
More Information About This Book and The Author
Buy Vibrational Money Immersion by Ray Higdon on Amazon today
Visit RayHigdon.com to learn more about Ray, his books, blog, and products
Follow Ray Higdon on Facebook and Twitter
More Information About This Episode
Download the full transcript here (coming soon)
Listen on iTunes, Stitcher , and SoundCloud
Related books:
Think and Grow Rich by Napoleon Hill
The Millionaire Fastlane by MJ DeMarco
6 Months to 6 Figures by Peter Voogd
What did you like and not like about this episode? Fill out this one minute survey here.
What do you think about Ray Higdon's book, Vibrational Money Immersion? Share your review in the comments below: