A Preview of Unselling with Scott Stratten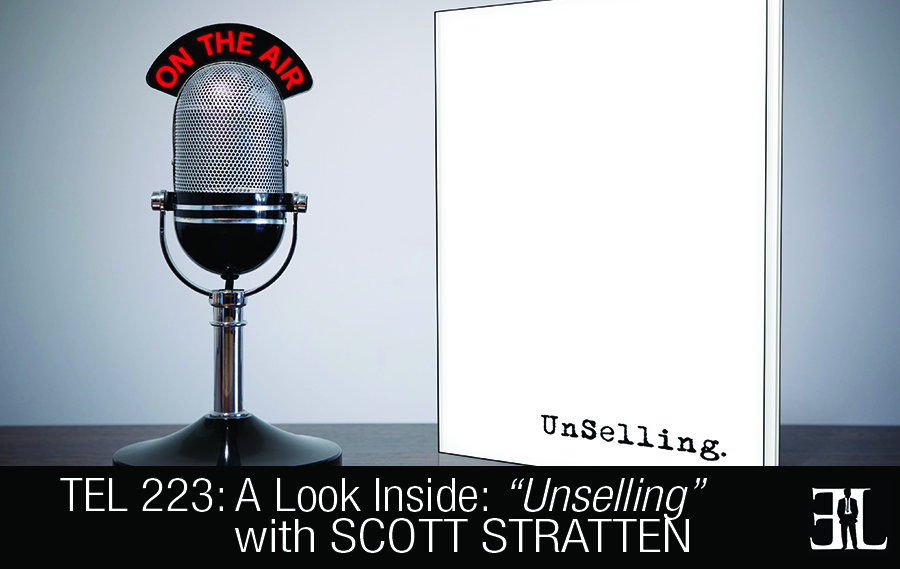 A summary of things you should know about Unselling according to Scott Stratten:
Introduction
In this episode Scott Statten takes a deep dive into his book, Unselling, where he reveals the secrets of what really influences purchasers' decisions.
In his book Stratten provides the keys to unlocking the mysteries of successful customer service and debunks a lot of nonsense that other marketers and marketing books talk about. The goal of the book is to teach you the most effective form of selling, how to create loyal, recurring customers, how to overcome customer service failures, and where to focus your marketing efforts.
This book is perfect for entrepreneurs who have an understanding of sales and marketing, but are looking for a better, longer lasting solution to keep customers buying from you.
The Book's Unique Quality (3:04)
It has no cover and that alone should make it stand out. The brand is not about what we think it is, it's about the customer and our book reflects that.
The Best Way To Engage (4:38)
You can read it straight through but it's written in a way that you can also jump around whenever you want.
The Reader's Takeaway (13:59)
Everybody in the chain matters.
A Deep Dive Into The Book (5:23)
The main pillar of Unselling is the customer pulse. People think we have two types of customers in this world, we have customers and we have noncustomers. The key thing with the customer pulse is that we really have three types of customers ecstatic, static, and vulnerable.
Ecstatic types of clients are the ones that refer others, the ones that renew and sing our praises in social media. Static customers are the ones who are there, they'll probably renew, but they are only our customer because they haven't seen or heard of a better solution to their need.
The vulnerable customers are the ones that are looking for an out and this process could be a day, a year, or even five years. The problem is we usually don't find out we have lost a customer until we have lost them and then we do everything possible to try and get them back.
We have to understand that customers can be customers for life if we just value them. The book takes you through examples of our own personal experience, to examples that are out there in the world, and then to practical ways to keeping and maintaining your customers.
NOTE: That was just a summary. To get the full deep dive, play the audio clip at 05:23
Notable Quotes From The Book (16:23)
"You treat your customers, and your employees, and your vendors all the same with the utmost respect and the utmost care and that will pay you back in spades." –Keri Smith
The Credibility/Inspiration Of The Author (1:07)
I am the un everything, unmarketing, unselling, co-host of the unpodcast, and unsatisfied with the way things are being done in business.
I realized after being an old-school sales and training manager back in the day, that sales were focused on the transaction. You put all your eggs in the sales basket and once you had the transaction we handed it off to some other department and that's where we kind of dropped the basket and all the eggs broke. The point I am trying to make is that everybody is in sales because the way to lead to future sales is to make sure that we make the customer ecstatic to be part of our organization and that starts at the transaction all the way through to the delivery.
Other Books Recommended By The Author (19:56)
Permission Marketing by Seth Godin
More Information About This Book and The Author
Buy Unselling by Scott Stratten on Amazon today
Visit Unmarketing.com to learn more about Scott and his book
Visit Unmarketing.com to learn more about the Unpodcast
Follow Scott Stratten on Facebook and Twitter
More Information About This Episode
Download the full transcript here (coming soon)
Listen on iTunes, Stitcher , and SoundCloud
Related books:
Escape The Expected by Tom Trush
High Paying Clients by Trevor Crane
The Entrepreneur's Guide to Sleaze-Free Selling by Julia Kline
Relevant advice and tips:
7 Reasons Why Your Sales Skills Suck
What did you like and not like about this episode? Fill out this one minute survey here.
What do you think about Scott Stratten's book, Unselling? Share your review in the comments below: