A Preview of Nice Guys Finish First with Doug Sandler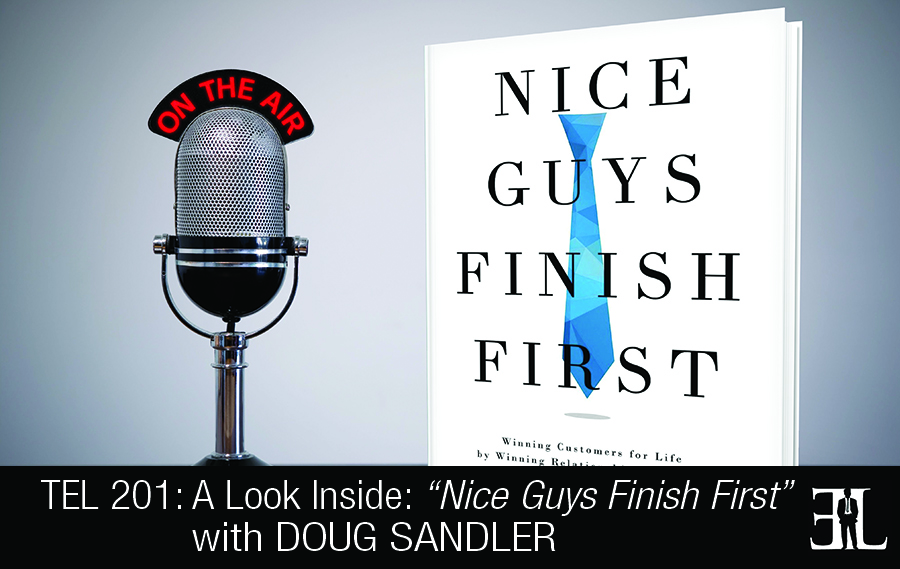 A summary of things you should know about Nice Guys Finish First according to Doug Sandler:
Introduction
In this episode Doug Sandler gives a full preview of his book, Nice Guys Finish First, where he discusses how a great experience can make someone a customer for life.
In his book Sandler shares a very original consultative approach to putting the "human" back into client relationships in order to build trust that results in exceptional customer service. The goal of the book is to show you how to advise customers on making good decisions, build a longer lasting relationship with them, and develop a stronger sense of personal character.
This book is perfect for entrepreneurs who are having a hard time keeping customers and need a practical way to overcome the challenge of taking their business from good to extraordinary.
The Book's Unique Quality (3:38)
I wanted to make a simple book and an easy read. There is no magic bullet in business today but there is a system that I've put in place that is so simple.
The Best Way To Engage (5:06)
You can pick this book up and read it from any chapter. Half of the book is based on systems and the other half is based on the behavioral approach you can take.
The Reader's Takeaway (16:00)
That's any easy one for me because the title of the book, Nice Guys Finish First, is really what it's all about. The one concept that I would like the reader to walk away with is that nice guys finish first.
A Deep Dive Into The Book (5:49)
The book came together as a result of trying to figure out what I would like to read and what I thought entrepreneurs would like to read in trying to advance their business forward to the next level.
I start with a little bit of a background on me. The book is called Nice Guys Finish First because the philosophy behind this entire system is that you can be nice in business today and still be very successful. Being nice is giving back just as much as you are taking.
I talk about technology because in today's technology age we really have a tough time with those sixteen digit numbers that we've all become to the company's that we work with. I talk about how to use technology to your advantage as opposed to using technology as a tool to hide behind the issues that you may be having with your business.
Then I start to get into what it means to put the customer first in your business and how we can create an attitude that represents that.
As you get into three or four chapters of the book we start to get into the systems. We talk about the system of investing energy in your resources, investing your time in your client, inspiring your client to take action and come up with a plan, and then execute. It's really not just about executing a plan to bring your product to this customer or to create a great culture of customer service; it's to execute your plan excellently.
As we start to get into the second half of the book we talk about how your customer needs to trust you and how you want to take a consultative approach to selling.
As we get into the last 3rd of the book I talk about empowering others and how important it is especially as a solo business owner. This includes delegating responsibilities and not being the ironfisted leader. I talk a little bit about leaders and how important it is to be a leader that leads by gratitude rather than a leader that does not show the way but tells the way.
In the last couple of chapters of the book we take a look at the positive environment that you have to create within your own head.
As I get to the final two chapters I talk about the importance of failure as a part of success. As we conclude the book I really get into the important areas that you need to focus on in your life. You need to focus on time management, money management, and relationship management. I wrap up the book talking about where to go from there.
NOTE: That was just a summary. To get the full deep dive, play the audio clip at 05:49
Notable Quotes From The Book (18:06)
"The shortest answer is doing the right thing." – Unknown
The Credibility/Inspiration Of The Author (0:59)
I spent 48 years running an entertainment business as a DJ. About two years ago I turned a switch and decided that I could teach people to do what I have done which is build a business.
A few years ago I made a call to a credit card company and I was asked to enter my sixteen digit number followed by the pound sign. As I went through this phone call I kept thinking that there has got to be a better way than this. I figured that there had to be a way that I could teach what I've done over the last 30 years to those that are just getting started now so that they can avoid the mistakes that I made.
Other Books Recommended By The Author (19:19)
Think and Grow Rich by Napoleon Hill
Who Moved My Cheese by Spencer Johnson and Ken Blanchard
More Information About This Book and The Author
Buy Nice Guys Finish First by Doug Sandler on Amazon today
Visit DougSandler.com to learn more about Doug and his book
Follow Doug Sandler on Facebook and Twitter
Get a personalized book insert by contacting Doug via email here
More Information About This Episode
Download the full transcript here (coming soon)
Listen on iTunes, Stitcher , and SoundCloud
Related books:
Customer Experience 3.0 by John A Goodman
The Trusted Advisor by Robert Galford
Advisor Selling by Mark Hunter
Relevant advice and tips:
7 Reasons Why Your Sales Skills Suck
What did you like and not like about this episode? Fill out this one minute survey here.
What do you think about Doug Sandler's book, Nice Guys Finish First? Share your review in the comments below: