A Preview of Captivology with Ben Parr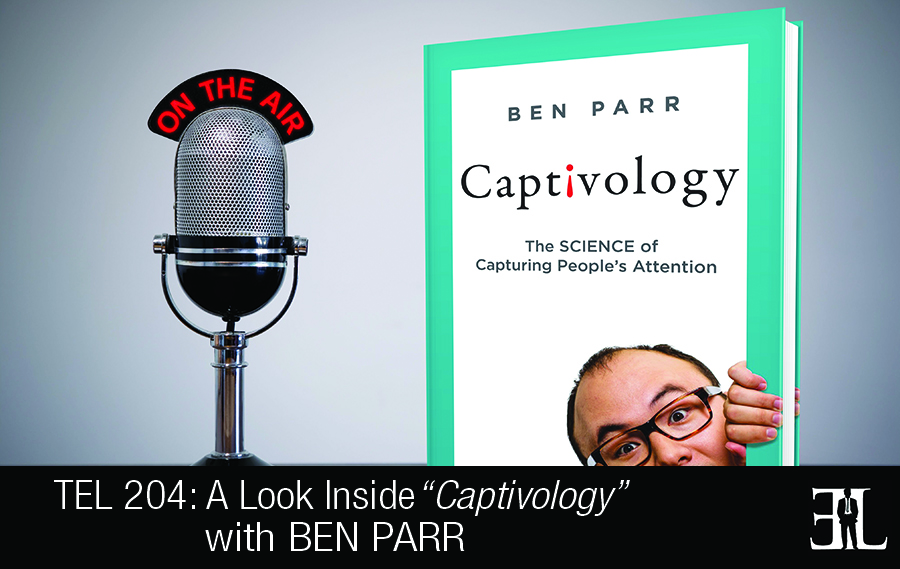 A summary of things you should know about Captivology according to Ben Parr:
Introduction
In this episode Ben Parr shares all his insights on his book, Captivology, where he presents a unique understanding of capturing people's attention.
In his book Parr reveals his latest research on the psychology and neuroscience on what attracts consumers and convinces them to support certain areas of a business product or service. The goal of the book is to help you create effective advertising campaigns, deliver high quality presentations, delegate the right jobs to the right people, and bring your product to the attention of millions of prospects.
This book is perfect for entrepreneurs who understand the importance of building a following but are having trouble attracting and engaging the right consumers with a product or service.
The Book's Unique Quality (3:15)
What I set out to do was not write a marketing or social media book. There is a lot of scientific research and information in this book and I don't base my suggestions or triggers on my gut feeling. I actually went through the actual science and 1,000 research studies to truly understand the subject at a fundamental level.
The Best Way To Engage (4:24)
I think that you can jump in and out but you are going to get the most benefit by reading it front to back.
The Reader's Takeaway (14:54)
The one thing that I've learned from all the research I did and all the people I interview was the masters of attention don't try to capture attention for themselves, they try to capture attention for their projects, passions, and ideas. I want people to think of attention as this positive tool for whatever they do.
A Deep Dive Into The Book (5:08)
The book is divided into two key sections and I'll describe some of the key pieces and findings.
The first part is what I call The Three Stages of Attention and I go through the new model that I found for how attention works and how we should think of attention. Everybody seems to think of attention as this kind of short-term or reactionary thing or short-term focus but that's not really the attention and the fundamentals. Attention is really a memory construct and it goes on three stages which are immediate attention, short attention, and long attention. With these three attentions I don't think many people think about how to walk their audience through all three, they just focus on how to get initial attention. So I talk a lot about walking your audience through those three stages of attention.
The key and the structure of the book is around seven captivation triggers and these are the seven psychological triggers that kept coming up through my research that capture your attention across all three stages. The seven triggers are automaticity, framing, disruption, reward, reputation, mystery, and acknowledgement. Automaticity understands the automatic reaction we have to certain sights, sounds, and colors. Framing is about our frame of reference and how our frame of reference based on our world experience, really does change the way in which we pay attention. Disruption is that we pay attention to the people and things that violate our expectations. Then you have reward and the reward system is one that is not fully understood. Reputation is that we pay attention to reputable source specifically experts, authority figures, and the crowd. Mystery is one of the final triggers and it's when we pay attention to incomplete story lines and thoughts. The most prayerful trigger of them all is acknowledgment and that is when we pay attention to the people and things that provide us with validation, empathy, and understanding.
NOTE: That was just a summary. To get the full deep dive, play the audio clip at 05:08
Notable Quotes From The Book (16:12)
"Attention is the most important currency that anybody can give you. It's worth more than money, possession, or things." – Ben Parr
The Credibility/Inspiration Of The Author (0:50)
I am the author of Captivology and also the founder of DominateFund which is an early stage venture fund that coaches startups on attention and how to capture attention for their products. My original claim to fame in the tech industry was that I was the co-editor and editor-at-large of Mashable.
I was initially inspired by entrepreneurs. When I first left Mashable and I started doing the venture fund and the kind of help that startups came to me for was all around attention. As I did my research I really came to realize that attention is the fundamental life blood of the modern economy and so that set me off the path of writing this book.
Other Books Recommended By The Author (17:51)
Quiet by Susan Cain
The Giver by Lois Lowry
More Information About This Book and The Author
Buy Captivology by Ben Parr on Amazon today
Visit Captivology.com to learn more about the book
Visit BenParr.com to learn more about Ben and his company
Follow Ben Parr on Facebook and Twitter
More Information About This Episode
Download the full transcript here (coming soon)
Listen on iTunes, Stitcher , and SoundCloud
Related books:
Escape The Expected by Tom Trush
Hooked: How to Build Habit-Forming Products by Nir Eyal
Traction: A Startup Guide for Getting Customers by Gabriel Weinberg and Justin Mares
Relevant advice and tips:
5 Simple Ways Entrepreneurs Can Attract Customers
What did you like and not like about this episode? Fill out this one minute survey here.
What do you think about Ben Parr's book, Captivology? Share your review in the comments below: