7 Essential Steps to Becoming A Public Figure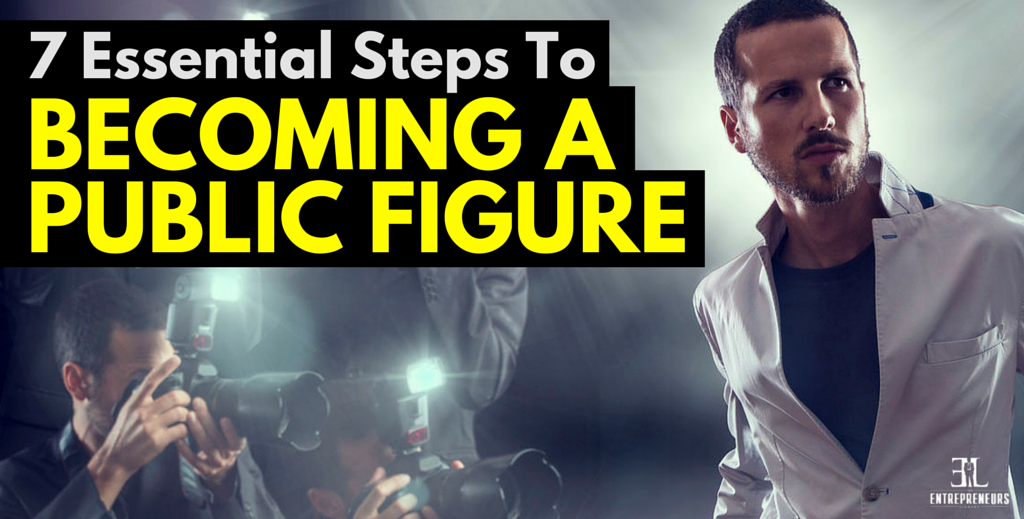 Any entrepreneur worth their salt has dreamed of becoming a public figure. Even considering they are slow to the stage, the majority of entrepreneurs do not wish to toil behind the curtains forever. Since the turn of the century, we have been graced with the presence of a variety of entrepreneurs and visionaries that have been able to deliver lasting changes in a wide range of different fields.
From the many well-known authors we have had on The Entrepreneurs Library, I have come to learn that any entrepreneur who is thinking about becoming a public figure will excel quickly by learning from other leaders that have found tremendous amounts of success. Here's a closer look at the essential steps that many leaders today when they first started becoming a public figure.
1. Don't Forget Where You Came From
Andrew Carnegie is one of the first entrepreneurs that we are taught about. He was not born with a silver spoon in his mouth and grew up in a lower class household. His poverty stricken family left his native Scotland to come to America and raise their quality of life. Carnegie used his impoverished childhood as motivation.
Once Carnegie became wealthy, he was not content to sit on top of his stack of money. He reached out to those who were less fortunate, donating tens of thousands of dollars to fund hospitals and libraries. He was also one of the first entrepreneurs who wrote a book about his success, imparting his secrets to others who were in the same position he used to be in.
2. Share Unpleasant Experiences
Unless you have been living under a rock for the past 20 years, you have heard the name Oprah Winfrey. Oprah is a testament to what you can achieve if you have the willingness to overcome the bad things that have happened in your past and continue to work towards your goals.
Oprah has become an influential public figure because of her eloquence and her ability to speak passionately about the experiences that shaped her. Because of this, people do not see her as a billionaire who is above them, she is seen as a peer, which makes more people want to purchase her products.
3. Be Yourself
No matter who you are or where you are from, you have heard of Steve Jobs. While Jobs may be a polarizing person to many, there is no question that he is an influential public figure. Even in death, his quotes and philosophies are still discussed. The main lesson to be learned from Jobs is to always be yourself.
Jobs has been criticized for his sometimes abrasive approach, but he was able to command respect and become an important public figure because of his honesty and unwavering commitment to his own personal principles.
4. Tell Your Life's Story
The Social Network was more than just a movie about the creation of Facebook, it also displayed Mark Zuckerberg's best and worst tendencies. While some entrepreneurs would be reticent to allow themselves to be portrayed in an unfavorable light, Zuckerberg gave Hollywood the permission to tell his story, warts and all.
Every entrepreneur is not going to receive the opportunity to tell their story on the big screen. By telling your whole story, you allow your audience to relate to you on a whole new level. It has the effect of humanizing you and showing people that you are far from invincible.
5. Provide Useful Information
The Huffington Post has become one of the Internet's most trafficked websites, making a star out of the site's creator, Ariana Huffington, in the process. Because she provides an important publication service and educates her readers about current business, political and entertainment issues, Ariana Huffington has developed a much higher profile in recent years.
When an entrepreneur provides people with more than a simple product or service, it increases their appetite for knowledge about the person, which eases their transition into a public figure. She has gone from unheralded blogger to the pages of Time magazine, without having to pander to the lowest common denominator.
6. Variety Is The Spice Of Life
Martha Stewart is a name known throughout the world and even a prison stint could not deter her businesses. She has been able to endure as a public figure because she has successfully diversified her portfolio. While some may know Stewart from her television persona, others may know her because they purchase her linens or her magazines. Martha even makes appearances on shows like The Apprentice and Comedy Central's Justin Bieber roast.
Martha's media presence is varied, which gives her the unique ability to speak to a plethora of different audiences and ensures that her shelf life as a public figure is not artificially shortened. Some entrepreneurs are content to live a low profile life, working in the same field, but to become a public figure, you must be able to reach different segments of the population.
7. Have An Engaging Social Media Presence
Some may know Mark Cuban as the man who was smart enough to cash out before the tech bubble burst, while others may know him as the outspoken owner of the MBA's Dallas Mavericks franchise. Mark Cuban is able to remain in the spotlight because of his transparency and ability to tell it like it is.
For instance, Mark was one of the first major entrepreneurs to harness the awesome power of Twitter. His official, verified account now boasts nearly 3 million followers, many of whom do not even follow basketball. He gives his followers valuable insights into the business world and as a result, he has become a beloved public figure.
Recommend books on becoming a public figure:
Top Dog: How To Impress and Influence People Around You by Andy Bounds
Credibility by Jim Kouzes
Powerhouse by Mike Clayton
Pocket Man by Scott Jordan
Charisma on Command by Charlie Houpert
How are you working on becoming a public figure? Share your thoughts below: